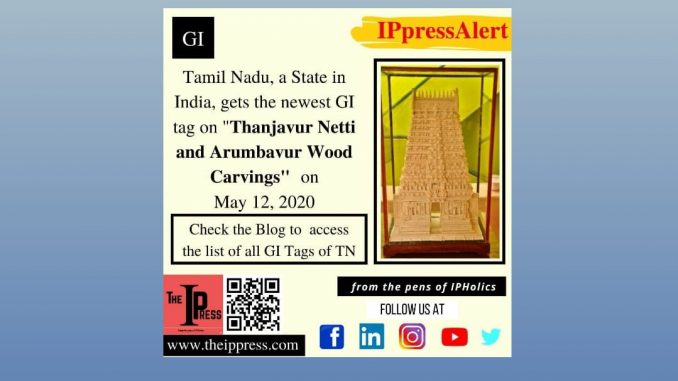 The land of the oldest living language in the world, Tamil Nadu, a State in India, recently on 12th May 2020 was awarded with 2 more GI Tags "Thanjavur Netti (pith) works" and "Arumbavur Wood cravings". The application for both the art forms were submitted by Tamil Nadu Handicrafts Development Corporation (Poompuhar), Government of Tamil Nadu back in the year 2013.
Thanjavur District is the Rice Bowl of Tamil Nadu and was once the cultural capital of the country in 1790. The Thanjavur Netti is a Traditional art form made from Netti (pith) which is extracted from a plant called Aeschynomene Aspera. Most of the pith works of Thanjavur is famous for creating models of the "Brihadeeswarar temple, Thanjavur".
Here are some more examples of Pith sculptures created in the region: "Ganesha", Durga","Madurai Meenakshi" temple model. "Thiruvarur temple car", "Geethopathesam", the Ucchi Pillayar Rock Fort, 'I'richy, Temple of Gangaikonda Cholapuram, Shri Ranganathar
Temple model, Mahabalipuram Shore Temple etc.
The other GI Tag awarded is "Arumbavur wood carvings" which comes from Arumbavur in Perambulur district of Tamil Nadu. Arumbavur is one of the most important woodcarving centres of the Southern India. Because of the high availability of wood in Pachamalai hills it receives abundant supply of wood for its craftsmen. The wood carvings are finely chiseled and intricately carved out of a single block of wood. The most famous carvings are idols of Hindu Gods, Temple chariots, Ashtalakshmi, Vahanam-mounts for temple deities, figures of Christ.
The grant of GI has put the long battle with a full fledge win for both the art forms. The significance of this GI tag will not only protect this art form from being exploited and will also secure their popularity by the legal means. The purpose of this GI tag for both the Art forms will increase the interest of artisans in this field.
Tamil Nadu already holds 35 GI tags and two more are added: [Find out more details by clicking on the link]