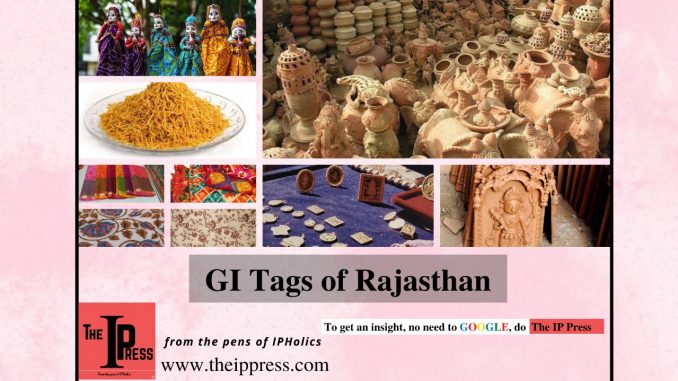 Rajasthan, a State in India, also known as "The Land of Kings" was formed on 30th March, 1949, when Rajputana merged into the Dominion of India. It is the largest State of India with its capital city Jaipur also known as the "Pink City". Rajasthan has 15 Geographical Indication (GI) Tags in its basket. The last GI tag was given to "Pokaran Pottery" on 18th May, 2018 [here].
Pokaran Pottery is a handicraft product whose application for GI tag was filed by M/s. Kumbhkar Hasthkala Vikas Samiti on 19th January, 2015 [For all documents click here]. Pokaran (also known as Pokharan), is a city and a municipality located in Jaisalmer district in the State of Rajasthan, surrounded by rocky, sandy and five salt ranges. It served as the test site for India's first underground nuclear weapon detonation. The soil of Pokaran is viscous and light pink that makes it ideal for the pottery. It is the particular climate and soil of the area which distinguishes Pottery of Pokaran from other terracotta pottery.
Each and every Pokaran Pottery product depicts a particular theme. Various items crafted out of terracotta include hand-painted plant pots, large decorative vases, terracotta clay planters, handmade flower pots, statues, utility wares like cooking and serving pots, paraat, kulhars, chanti, gullak, tawa have a good market demand in rural as well as in the urban areas.
GI Tags of Rajasthan-
HANDICRAFT
FOOD STUFF
Bikaneri Bhujia (Food Stuff) [here]
NATURAL GOODS
Makrana Marble (Natural Goods) [here]