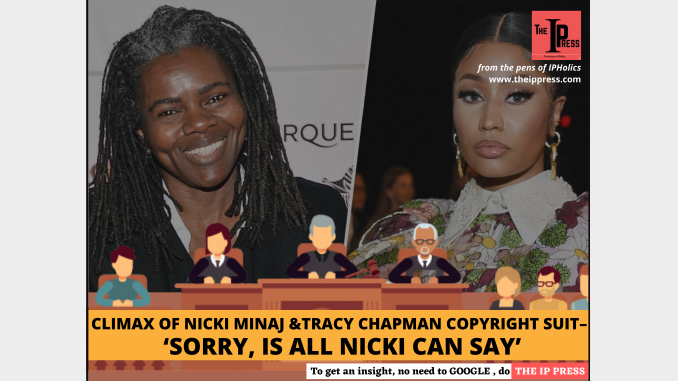 On 22nd October, 2018, Tracy Chapman brought a lawsuit claiming copyright infringement of her musical composition 'Baby Can I Hold You' by Nicki Minaj in her song 'Sorry'. Although the song 'Sorry' was never released, it nonetheless made its way to radio DJ Funkmaster Flex and went viral. According to Tracy Chapman, Nicki Minaj violated her 'exclusive rights' to reproduce, distribute, and prepare derivative works from and otherwise exploit her Composition 'Baby Can I Hold You'. Tracy claims that Nicki Minaj violated her exclusive rights in two ways:
By creating and producing a song that incorporates lyrics and melodies of her song 'Baby Can I Hold You', and
By dealing out, distributing her song to a DJ and radio host – radio DJ Funkmaster Flex
Tracy Chapman wrote her song 'Baby Can I Hold You' in the year 1982 and acquired copyright registration on 20th October, 1983. In the year 2017, Nicki Minaj agreed to work with a recording artist named Nasir Bin Olu (Nas) on a remake of a song titled 'Sorry'. On 23rd May, 2018, Nicki Minaj, through her representatives, initiated a request for Tracy Chapman's clearance to publish and distribute the song 'Sorry' in her then upcoming album named 'Queen'. However, Tracy denied her requests but the song mysteriously leaked and went viral across the internet after DJ Funkmaster Flex played it on a popular New York radio DJ on station 'Hot 97'.
In summary judgment motion, Nicki Minaj claimed that her song was protected and covered under the doctrine of 'fair use' even without a license from Tracy Chapman, as the preliminary preparation of the sound track was an 'experiment' which qualified as 'fair use' under the Copyright Act and argued that the purpose of creating the new work was to experiment with the artist's vision, and create a form that could be submitted to the rights holder for approval.
In the summary judgment, Virginia A. Phillips, J., observed that uprooting and relinquishing the customary practice of letting artists experiment privately would limit creativity and stifle innovation within the music industry. Nonetheless, the case was held acceptable for trial to investigate the facts and hold accountability for the leak to Funkmaster Flex and ultimate distribution of the song.
However, the trial will no longer take place, as in December 2020, Nicki Minaj, through her representatives made a proposal for an out of court settlement amounting to $450,000 in order to avoid trial which Tracy Chapman accepted. According to documents filed in U.S. District Court in California's Central District on 7th January 2021, Tracy Chapman has accepted Nicki Minaj's 'Offer of Judgment' for their two year long infringement suit and as a result, the case will not be taken up for trial. Nicki also agreed to pay Tracy Chapman's legal fees.
'Offer of Judgment – Rule 69' of Federal Rules of Civil Procedure allows defendants to make an 'offer of judgment' at any point up to 14 days before trial. The offer of judgment resembles a settlement offer from a defendant and the plaintiffs must pay the costs incurred by the defendants after the offer was made, if the plaintiffs choose to reject the offer.
Tracy Chapman has been known to be protective of her work as she never authorized the use of her songs for samples or requested a sample. Nicki Minaj has learned it the hard way that Tracy Chapman never agrees to allow her music to be sampled and 'Sorry, Is all that she can say'.