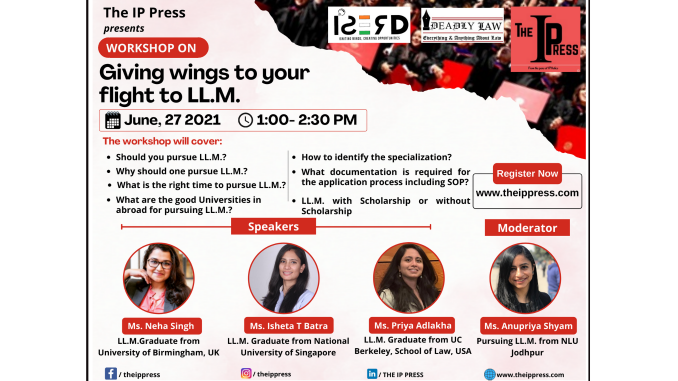 Date and time
27th June 2021, 01:00 – 2:30 PM IST
Speakers:
1. Ms. Neha Singh
LL.M.Graduate from University of Birmingham, UK
2. Ms. Isheta T Batra
LL.M. Graduate from National University of Singapore
3. Ms. Priya Adalekha
LL.M. Graduate from UC Berkeley, School of Law, USA
Moderator: Ms. Anupriya Shyam
Pursuing LL.M. from NLU Jodhpur
It aims to guide students about the opportunities abroad pertaining to higher studies and the best way to approach them. Our speakers will discuss at length about their experiences and the impact the Master Degree had on their career.
This workshop presents a wonderful opportunity to gather information and clear doubts concerning whether one should go for higher studies or seek a job after graduation and the possible advantages of higher education and its impact on career.
It is open for Law Students, Final year students, Law graduates and any person who wishes to go for higher education in the field of law.
For more details, download the brochure from here.