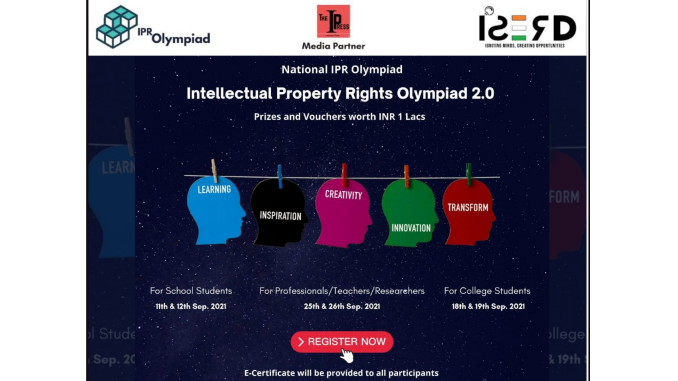 India's First and Unique National IPR Olympiad – IPR Olympiad 2.0
ISERDIndia Analytics LLP will be organizing IPR Olympiad 2.0. The Olympiad will be organized in association with THE IP PRESS.
Envisioning an India where creativity and innovation are stimulated by Intellectual Property for the benefit of all; an India where intellectual property promotes advancement in science and technology, arts and culture, traditional knowledge, and biodiversity resources; an India where knowledge is the main driver of development, and knowledge owned is transformed into knowledge shared.
ISERDIndia Analytics LLP's foremost vision is to promote the importance of Intellectual Property in the country with a mission to make India self-reliant. It is the first and one of its kind as it includes a variety of skill enhancement techniques that can help us to check an individual's competency in IPR. It celebrates the genre of intellectual property (IP) with the idea of promoting technical and innovative skills, to generate awareness and create curiosity amongst students, entrepreneurs, researchers, in-house legal corporates, and other individuals who are connected directly or indirectly to IPR.
Participate in India's First Inclusive National IPR Olympiad version 2.0, supported by THE IP PRESS as Media Partner and organized by IPR OlympiadOlympiad. Get a chance to be recognized as a National IPR Olympian and winning rewards worth INR 1 Lakh. National Level E- certificate to every participant. For more information and registrations visit www.iprolympiad.com.
What are you waiting for? Give a boost to your career by registering yourself in #iprolympiad