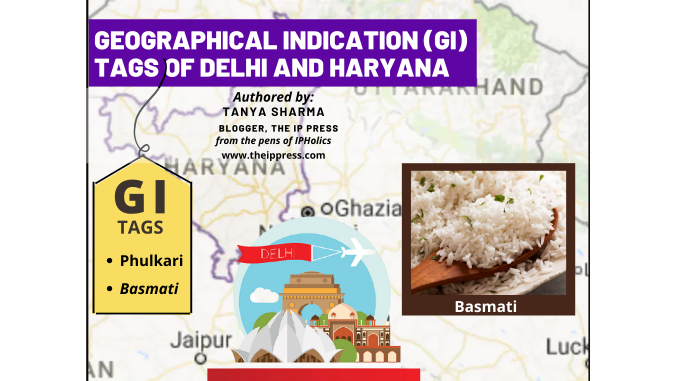 Delhi, officially known as the "National Capital Territory (NCT) of Delhi", is a city and a Union Territory of India, containing New Delhi, the capital of India; and is bordered by the State of Haryana on three sides and by Uttar Pradesh in the east. The city is now considered to extend beyond the NCT boundaries, and includes the neighbouring satellite cities of Ghaziabad, Faridabad, Gurgaon, and Noida in an area called the National Capital Region (NCR); and is of great historical significance as an important commercial, transport, and cultural hub, as well as the political cadre of India. Delhi, till now, has been granted a Geographical Indication (GI) Tag namely "Basmati" which shares its tag with other states of India, including Haryana.
Haryana, a state located in the northern part of the country, is bordered by Delhi on three sides, i.e. north, west and south; Himachal Pradesh in the north-east; River Yamuna and Uttar Pradesh in the eastern border; Rajasthan in the west and south; and Ghaggar-Hakra River and Punjab in its northern border. The state is rich in history, monuments, heritage, flora and fauna, human resources and tourism with a well-developed economy, national highways and state roads. Besides, Basmati, Haryana has been granted a GI tag on "Phulkari", a handicraft product, which shares its tag with Punjab.
Basmati is an agricultural product, whose application for GI tag was filed by the Agricultural and Processed Food Products Export Development Authority (APEDA) on 26th November 2008, and the product was certified on 15th February 2016. The Application Details for 'Basmati' are mentioned below-
Application Details
| | |
| --- | --- |
| Application Number | 145 |
| Geographical Indications | Basmati |
| Status | Registered |
| Applicant Name | The Agricultural and Processed Food Products Export Development Authority (APEDA) |
| Applicant Address | NCUI Building 3, Siri Institutional Area, August Kranti Marg, New Delhi – 110 016, India |
| Date of Filing | 26/11/2008 |
| Class | 30 |
| Goods | Agricultural |
| Geographical Area | India (Punjab / Haryana / Himachal Pradesh / Delhi / Uttarkhand / Uttar Pradesh / Jammu & Kashmir) |
| Priority Country | India |
| Journal Number | 34 |
| Availability Date | 31/05/2010 |
| Certificate Number | 238 |
| Certificate Date | 15/02/2016 |
| Registration Valid Upto | 25/11/2028 |
BASMATI is special long grain aromatic rice grown and produced in a particular geographical region (namely Punjab, Haryana, Himachal Pradesh, Delhi, Uttarakhand, Uttar Pradesh and Jammu & Kashmir) of the Indian sub-continent. The name BASMATI IS DERIVED FROM TWO SANSKRIT ROOTS 'Vas' meaning 'aroma' and 'mati' meaning 'ingrained from the origin'. Essentially, BASMATI means, 'the one containing aroma'. BASMATI is nature's gift and farmers have been growing this scented rice variety for many centuries. In India, various types of aromatic rice including short and long grains are grown. There are over hundreds of varieties of aromatic rice grown in the world as well. However, BASMATI is the best known among these owing to its many unique cooking and eating properties attributable to the agro-climatic conditions prevailing in the aforesaid geographical area.
BASMATI rice is an iconic heritage of India which needs to be preserved in the national interest, being a unique product originating only from a defined growing region of the Indo-Gangetic plains. The objective of protection of BASMATI as a geographical indication is twofold:
To protect the interest of the stakeholders such as farmers, millers, traders, exporters and importers; and
To protect the consumers against deception and acts of unfair trade competition.
BASMATI rice varieties require prolonged sunshine, high humidity, cool weather during grain filling, sufficient water supply, and normal soil. The supremacy of BASMATI rice over other varieties of scented and non-scented rice is attributable to its unique and delicately balanced combination of a number of unique characteristics such as long slender kernels with high length breadth ratio, an exquisite aroma, sweet taste, soft texture, delicate curvature, intermediate amylase content, high integrity of grain on cooking, and linear kernel elongation with least breadth wise swelling on cooking. These unique characteristics are attributable to the various natural and human factors involved in the sowing, harvesting and processing of BASMATI rice.
India, being the world's largest exporter of basmati rice, has always made attempts to protect the basmati title. Dating back to the late 90s, there was a bitter dispute between the Indian Government and the US company RicTec in which the latter sought a patent for certain rice varieties namely Kasmati, Texmati and Jasmati. The patent was granted in 1997, much to the chagrin of the Indian Government and the public, which argued that this would result in Indian-grown basmati being edged out of the US market. A legal battle followed, after which, in 2001, the US narrowed the patent to only three variants produced by RicTec. Within India, the GI tag for basmati came through only in 2016.
Talking about the recent scenario, in June 2021, India has applied for Protected Geographical Indication (PGI) status from the European Union's Council on Quality Schemes for Agricultural Products and Foodstuffs as it would provide a sole owner of the basmati title in the EU. Pakistan, the only other basmati rice exporter in the world, has opposed this move as it would adversely impact its own exports, especially as the EU is a major market for its basmati.
However, a dispute is also going on over BASMATI, within India. The Madhya Pradesh government has been lobbying the central government for its basmati rice varieties to be granted the GI status, even taking the matter to the Supreme Court. However, the All India Rice Exporters' Association (AIREA) has opposed this by stating that if MP's request is granted then it would open the door to other regions within India as well as rival rice exporters like China and Pakistan to grow basmati varieties anywhere in their territories, thus diluting the power of the basmati brand and compromising its integrity.
GI Tags of Delhi are-
Agricultural Products:
Basmati [here]
GI Tags of Haryana are-
Handicraft Products:
Phulkari [here]
Agricultural Products:
Basmati [here]