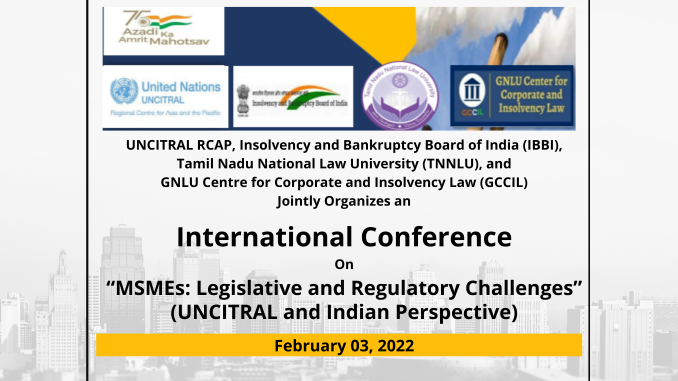 The Conference invites proposals for presentations from interested students, academicians, practitioners, professionals, and experts.
Themes for the Conference :
MSMEs: Legislative and Regulatory Framework
MSMEs and Securities and Exchange Board of India
MSMEs: Organizational Structure and Government's Support
MSMEs and Ease of Doing Business
MSMEs and Reserve Bank of India (RBI)
MSMEs and Digitalization
MSMEs and Access of Finance
MSMEs and Banks including NBFCs
MSMEs and Impact of COVID-19
MSMEs and Government Scheme (Post COVID)
MSMEs and Taxation (Pre and Post COVID)
MSMEs: Legal, Judicial & Executive Response during Pandemic
MSMEs and IBC
MSMEs and the Pre-Package Insolvency Resolution Process (PPIRP)
MSMEs: Role of Government

The above-mentioned sub-themes are merely suggestive. Interested participants may submit a proposal relevant to the main theme for presentation.
Important Dates
Submission of Proposal – 24th January 2022
Confirmation of Acceptance – 27th January 2022
Submission of Final Presentation – 1st February 2022
Registration Link: https://forms.gle/moZLMq399eqLA8eP7
For further details, kindly refer to the attached brochure.
For further Details, refer to the brochure here.