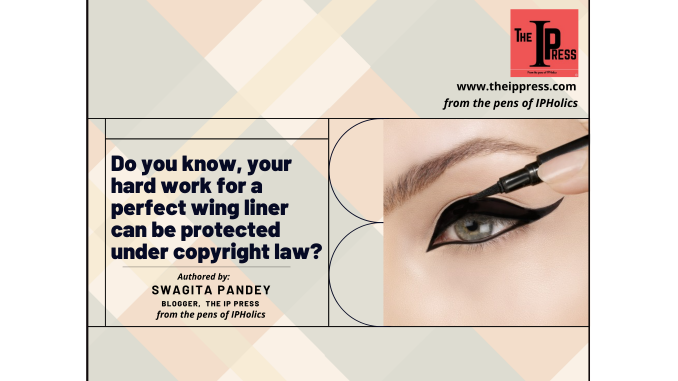 Over the past couple of years, it has been observed that the beauty industry is tussling with intellectual property issues every now and then. Instagram accounts like 'Diet Prada' or 'Diet Sabya' keep calling out similar and identical editorial beauty looks arguing on how the two makeup artists and their creative teams had ripped off looks from their peers. The beauty industry is facing a tenacious issue with respect to copyrights on beauty and looks that are not credited to the original inspiration by taking the defense of 'Idea-expression dichotomy'. Back in the year 2016[i] Snapchat made headlines when it released a new batch of face-altering filters that seemed to be inspired directly by the creations of make-up artists and these filters were exact replicas of intricate works of art, arguably plucked directly from the make-up artists' feeds. Also, recently Mimi Choi, a Vancouver-based professional makeup artist renowned for her unique artistic style has been very vocal about infringement of her makeup looks. However, the ambit of copyrightability of makeup has always been in question.
Well, it seems the United States Court of Appeals for The Second Circuit in the case of Sammy Mourabit v. Steven Klein, et al. [19-2142-cv] has put a halt to the dispute over copyright ownership of a makeup.
BACKDROP OF THE CASE
In the year 2013, Sammy Mourabit, was the makeup artist for a fashion photoshoot organized by W Magazine featuring actress Juliette Lewis. Steven Klein was the photographer at the Photoshoot. In the year 2015, Shiseido collaborated with Klein to create a holiday makeup collection. Shiseido used one of Klein's photographs from the Photoshoot of W Magazine to promote and advertise their new makeup line. Mourabit did not consent to any use of his makeup design in the 2015 campaign and his part in the creation of the makeup design was not mentioned in the campaign. In June 2018, Mourabit obtained a copyright registration for a drawing of the makeup artistry that Lewis showcased during the Photoshoot and then filed a complaint against Steven Klein and Shiseido in New York before the State Supreme Court alleging copyright infringement, unjust enrichment, unfair competition/misappropriation, and violation of New York General Business Law. The trial court rejected Mourabit's arguments and concluded that the human face was a tangible fixed medium of expression. The Second Circuit, however, ruled that the fixed medium was the photograph of the face containing the makeup artistry and the makeup artistry existed in a photograph. As a result, the makeup artistry was reproduced for more than a transitory period, and it met all the requirements for preemption.
THE PREEMPTION RULE
Under preemption rule, the states are precluded from enforcing penalties for copyright violations if the intellectual property at issue falls within the 'subject matter of copyright' as defined by federal law and if the claimed property rights are 'equivalent to' the exclusive rights provided by federal copyright law. The major two requirements of preemption rule is
Claims must apply to a work of authorship fixed in a tangible medium of expression that falls within the ambit of one of the copyrightable categories of copyrightable works.
Claims must seek to vindicate legal or equitable rights that are equivalent to one of a bundle of exclusive rights already protected by copyright law.
KEY TAKEAWAY FROM THE SECOND CIRCUIT VERDICT
The Second Circuit observed the following:
To meet the subject matter requirement for preemption a work does not need to be copyrightable, the work must merely fit in the category of copyrightable works in the broad sense. Copyright law protects two-dimensional drawings, therefore makeup fits into a category of works protected by copyright law in a broad sense.
Artistic work includes any work of art like paintings, photographs, sculptures of even works of body art like tattoos, and hence the court is of the opinion that makeup artistry forms a part of "pictorial, graphic and sculptural works" and thus is a copyrightable subject. Makeup artistry is like painting a face hinting that like paintings, makeup should also be copyrightable.
Makeup is an artistic expression that deserves to be protected. However, the artwork done by a makeup artist would have to meet the definition of "sufficient originality" to be considered copyrightable. Mere day-to-day makeup or even usual makeup for special occasions like weddings, cocktails, etc. consisting of general elements like red lipstick or smoky eye for that instance would not be copyrightable.  Only makeup which sets itself aside from generic makeup is copyrightable. Also, the landscape of makeup and intellectual property is one of the most rudimentary across the globe which now needs an urgent flick in line with the growth of technology, such as through Instagram reels and other short video platforms.
In sum, one thing that is certain, if your hard work for that one perfect wing liner is 'Sufficiently original' you might just be granted protection under copyright law!!!
---
[i] https://www.cosmopolitan.com/style-beauty/beauty/news/a60219/snapchat-copying-makeup-artists-for-filters/
[ii] https://storage.courtlistener.com/pdf/2020/06/08/sammy_mourabit_v._steven_klein.pdf