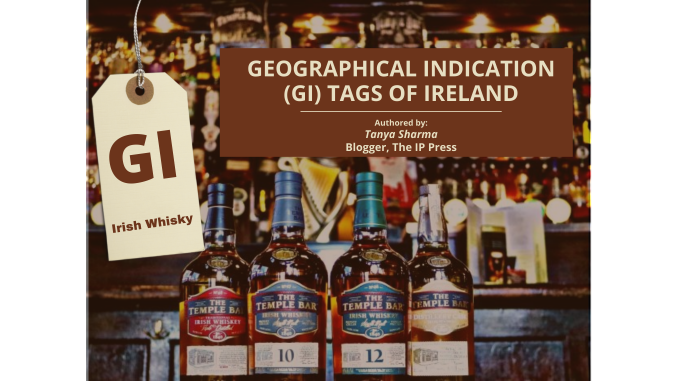 Ireland, an island in the North Atlantic, is the second-largest island of the British Isles, the third-largest in Europe, and the twentieth-largest on the Earth. It is separated from Great Britain to its east by the North Channel, the Irish Sea, and the St. George's Channel. Irish culture has had a significant influence on other cultures, especially in the field of literature. Ireland possesses one GI Tag which is Irish whiskey.
Irish whiskey is a manufactured product of Ireland, whose application for a GI Tag was filed by the Irish Whiskey Association on 28th November, 2011 and the product was certified on 28th August, 2019. The Application Details of 'Irish whiskey' are mentioned below-
Application Details
| | |
| --- | --- |
| Application Number | 345 |
| Geographical Indications | Irish Whiskey |
| Status | Registered |
| Applicant Name | Irish Whiskey Association |
| Applicant Address | Irish Whiskey Association, 84/86 Lower Baggot Street, Dublin 2, , , , Ireland, |
| Date of Filing | 28-11-2011 |
| Class | 33 |
| Goods | Spirits |
| Geographical Area | Ireland |
| Priority Country | IRELAND |
| Journal Number | 121 |
| Availability Date | 26-04-2019 |
| Certificate Number | 355 |
| Certificate Date | 28-08-2019 |
| Registration Valid Upto | 27-11-2021 |
Irish whiskey or Uisce Beatha Eireannach or Whiskey is a spirit drink produced in the whole island of Ireland from cereals with a minimum alcohol content of 40% and varies in colour from pale gold to dark amber. It identifies as a spirit drink where its quality, esteem, recognition and other features are essentially attributable to its geographical origin; also, it has an ancient tradition and longstanding reputation among consumers which extends beyond the confines of its area of origin. Thus, the raw materials used, the traditional knowledge and methods specific to this region used for the distillation of the spirit drink ascertains its uniqueness.
India is the largest whiskey market in the world with 2.3 billion bottles sold in 2018, the vast bulk of which is domestically produced. Thus, a large number of other imported whiskeys are making inroads into the Indian market and GI tag granted to 'Irish Whiskey' has pushed up sales of the newbie rival. GI tag to 'Irish Whiskey' means that only spirits produced in Ireland can use this label and the tag was granted at the time when American Whiskey, also called Bourbon, was fast emerging on the Indian pub scene as a drink liked by the professional crowd. Granting a GI tag to Irish whiskey is seen as a step that could help companies producing this drink in marketing within India. A GI tag prevents any product from being replicated by rival nations while assuring product respectability among consumers. The Irish whiskey has also gained a protected GI in European Union member countries in April 2019, after the Irish Whiskey Association (IWA) first applied for it in 2014. The IWA secured legal protection in South Africa for the first time in August 2019 and also won a trademark for Irish whiskey in Australia in February 2019.
According to the figures compiled by the Scotch Whiskey Association (SWA), 'India has become the world's 8th largest destination for Scotch Whiskey in 2018 by value, and the fastest growing one globally which posted a growth rate of 34.1 per cent in 2018'. According to the World Health Organization (WHO), the country's annual per capita spirits consumption has been more than doubled to 5.7 litres and as per International Wine and Spirits Research, the Whiskey consumption in India has more than doubled, from 80.2 million nine-litre cases in 2007 to 193.1 million nine-litres cases in 2016.
GI Tags of Ireland-
Manufactured Products: