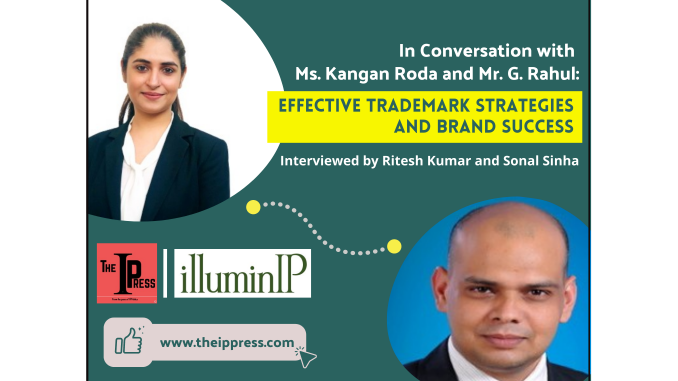 Q1. Let us start with talking about the potential that a good trademark strategy has for a brand and the success of the company overall.
(GR): A brand should always be distinctive enough to make your product stand out in the market with a good recall value. But adopting a unique trademark is just not enough, in the stages of creating a brand, it is helpful to conduct a search of existing trademarks to determine whether any similar or identical trademarks already exist that may prevent use and registration of your trademark. A product should be launch in the market only after conducting due diligence of the proposed brand. Next is marketing your brand to consumers in order to develop an association in the minds of consumers between the mark and the quality and satisfaction they derive from your goods and services. Another part of developing an effective trademark strategy is ensuring that your business is the only one that capitalizes on the goodwill you've created. In case of trademark infringement by others, you should provide notice of your trademark rights in most if not all instances of use of the trademark.
Further Ms. Kangan (KR) added: "In order to be irreplaceable, one must always be different." – Coco Chanel. Likewise, when it comes to a good trademark strategy, it is important that an exclusive identification of the brand is associated only with the products/services provided by the business. In view of the increasing competition in the marketplace across all industries, it is essential the brands and are uniquely identified by consumers and target audiences. It ensures the sole ownership of a particular symbol, logo, name, such that it is not misused. Said that, it is therefore, important to not only formulate a good trademark strategy but also have a good trademark enforcement strategy.
Q2. While we can all list out the basic pointers when it comes to effective trademark strategies, however, as you are an experienced Trademark Attorney, what are your observations with respect to common mistakes made by Indian brand owners?
KR: In addition to what Rahul has commented, one of the most common mistakes in my experience, the brand owners in India are making is failing to identify what are the different types of Intellectual properties their businesses command and how to protect those different kinds of IP.
In certain cases one single product commands/carries various types of Intellectual property rights in it, such as trademarks, designs, patents and copyright, which when not protected timely, may not be available at a later stage such as an article which is capable of design protection may not be available for protection once it is published in commerce, in which case the protection cease to exist.
More than a mistake I believe it is lack of awareness, a gap that we as a firm are trying to fill on a daily basis. In addition to KR's comment GR added I have come across a number of startups in India where they only focus on their products and in a hurry to launch their product in the market, and end up adopting a trademark which is so obvious or copied from some international brands. Consequently, their products either get lost in the sea of identical products in the market or tangled in a legal suit from international owners.
A trademark owner should conduct a proper due diligence of its proposed mark before launching it in the market. By due diligence I mean not only conducting Trademark searches but also proper market research for the existence of prior marks. In the global economy it's also important that you conduct a search of a global trademark database as well. Whenever I think of home grown brands with good recall value, brands such WOODLAND, MARICO, OLA, BOAT, SWIGGY etc., come across my mind.
Another common mistake by some Indian brand owners (mostly new generation startups) is not spending enough to protect their brands in the market. I don't mean that the owners should go after a third party by simply suing them but by just keeping a check of the Trademarks Register by regularly filing oppositions, which doesn't cost much. In my practical experience 90% of Trademarks conflict cases can get resolved before going to the court.
Q3. How and to what extent does advertising and marketing impact the strength and value of a trademark?
GR: As mentioned earlier, a trademark should have a good recall value and mere adoption of a unique trademark and launching the product in the market itself will not give it a recall value. It must be followed up with proper advertising and marketing campaigns. A good advertising and marketing strategy will help the brand owner to enter into the mind of its customer.
KR: I strongly believe that advertising and marketing has a critical role to play when it comes to adding direct value to a brand and indirectly through the brand to its trademark which ends up creating a long-lasting impression in the minds of the consumer.
Furthermore, In addition to having a distinct trademark, it is important to have elements such as catchy tagline, logos, brand story, which should be used by a brand to have the maximum impact on their target audience.
Q4. Can you share an example of a brand from your experience that is an ideal example for implementation of an effective trademark strategy contributing to its success?
GR: 'Thanda matlab Coca-Cola' is an example of a good advertising campaign where the US giant tried to enter the sub-conscious of the Indian consumer by trying to make Coca-Cola synonymous with the word THANDA.
KR: In India, as a brand "Amul", is one of the ideal examples for implementation of an effective trademark strategy. The consistent trademark strategy by the brand including various elements such as use of catchy taglines such as "utterly, butterly – Dilicious Amul", Amul – The taste of India, use of the renowned Amul mascot i.e. the Amul girl which is a hand-drawn cartoon of a young Indian girl dressed in a polka dotted frock with blue hair and a half pony tied up, have really helped the brand build a long-lasting impression in the minds of the consumer. In my opinion it is important to have such elements to create association and reach out to the consumers, which largely contributes to the overall success of a brand.
Q5. How well do Indian brands invest in their trademark and do you believe that they are doing enough?
GR: I know there are some big Indian brands who are zealously protecting their brands not only in India but internationally as well. At the same time the new startups are lacking behind. I understand that budgetary constraints would be one of the reasons for the same however in the long run the same bites back the brand owner. An example of what happens when you don't enforce your brand is the famous PANCHI/PANCHHI brand of Agra. If you happen to visit Agra, you will find that every other seller of peta (local sweet) is PANCHI/PANCHHI.
KR: In my experience, I have come across big Indian brands that are not only extremely conscious of protecting their trademarks, building their IP portfolio but are also religiously enforcing their trademark rights against misuse. Having said that, we are yet to see the same enthusiasm in the small business in India, a sentiment that is slowly but gradually changing.
Q6. How well do Indian brands monetize their Non-Conventional trademarks?
KR: When it comes to non-conventional trademarks in India, in my view, Indian brands are yet to explore the full potential of non-conventional trademarks to its benefit and to be honest, Indian brands have not even scratched the surface. I personally always strive to educate all the young and running businesses that come to me about this untapped stream of intellectual property rights and how in the coming times, wherein not only the businesses but the world is literally going digital viz-a-viz Metaverse, having such IP protected might add three times more value to the business just by protectiing non-conventional trademarks.
Non-conventional trademarks such as unique colour marks, sound marks, 3D/ shape marks, smell marks are a great asset to any business that protects them. While, in India, we have seen Indian brands protecting their colour marks, sound marks and 3D/shape marks, however, when it comes to smell marks, despite there being provisions in the Trade Mark Act and Rules for registration of smell marks, not a single smell mark has been registered in India till date.
We and by "we" I mean both business owners and legal professionals are yet to test the waters with this untapped field of law. I personally am very excited for times to come, wherein the non-conventional trademarks will be conventional.
Q7. If we compare the brand protection strategies of Indian brands and the foreign brands, who do you think is more vigorous in terms of protecting their brands in India ?
GR: Having represented both i.e. Indian and international brand owners, I think both are equally vigorous in terms of protecting their brands.
KR: When it comes to brand protection strategies, in my experience, foreign brands are more aware and hence conscious of protecting the trademarks than most of the Indian brands largely due to a much more developed capitalist and knowledgeable market.
As our country is developing, the Indian brands are also now getting more and more conscious of protecting their brands and therefore, we are seeing the development in this area in India and an increased inclination towards IPR.
Q8. What would you suggest to upcoming brands or the big Indian brands to make a proper brand protection strategy?
GR:
Do proper due diligence before adopting a trademark. If you can't do it yourself, hire an attorney.
Try to keep all your brands under the same entity and preferably the parent company.
Before entering into a dealership/franchise agreements have properly worded written agreements so that your dealer/franchisee uphold your brand as you do.
Don't be a paper tiger if you are enforcing your brand in the market. Most of the trademark conflicts can be settled out of court so work towards the same.
Ask your dealers, wholesaler to keep an eye on the market for duplicates, counterfeits etc so that the same can be timely dealt with.
Keep regular check of Trademarks Register for identical or similar marks.
KR: Here, I would highlight a few practical aspects as to why it is essential for a brand to make a good brand protection strategy:
A brand once established can enter various verticals and industries, like we have seen many Indian companies after having established a successful business. It is important to have brand protection strategy as a core part of the business strategy from the very beginning.
The upcoming businesses/established businesses must realize that obtaining a trademark registration is equivalent to creation of an asset for your business which can be monetized in many ways;
A trademark registration is valid for a period of 10 years and can be renewed for another 10 years thus making the trademark a perpetual right in nature.
And I would like to say to all the entrepreneurs and new businesses in India, keep innovating, keep creating and do not forget to protect your creation. 😊
Q9. Do you think there is a devised formula to protect brands in India or it always depends on the facts and circumstances?
GR: There cannot be one formula for the brand protection in India as it depends upon the product you are dealing with, the prospective customers of such products, market of such products etc., however a general brand protection strategy as mentioned under 8 would be most helpful.
KR: Although as Rahul said that there cannot be one formula but I am of a strong belief that there are industry specific step by step set guidelines of formulas if you will that are specific to each industry and cater to specific products that exist presently. For example, if I want to start a beverages business there is a step by step process/formula that exists which a brand can follow right from commencement to protect their intellectual property.
So yes, there is no one standard formula but there are industry specific formulas /guides.
Further, It is important that each brand before commencing their business must get an IP Audit done for its brand to figure out their own path/formula.
Thank you for your questions.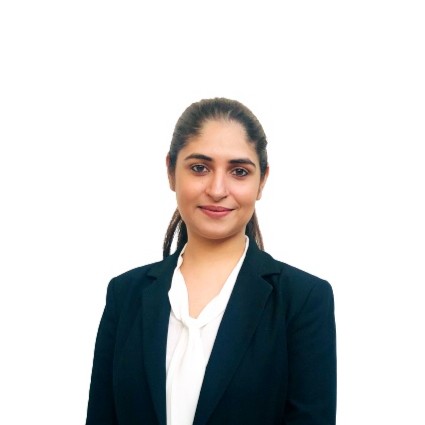 Ms. Kangan Roda
Interviewee
Ms Kangan is the founding partner of illuminIP. She specializes and heads IP prosecution and litigation practice at illuminIP. She is an advocate registered with the Bar Council of India since 2014. The key areas of practice include Intellectual Property Rights – trade marks, copyright and designs. Kangan has represented eminent and acclaimed companies from sectors like Fast Moving Consumer Goods (FMCG) sector, Pharmaceuticals sector, Food & Beverages (F&B) sector, Information Technology sector, Banking sector and others. She has gained a comprehensive understanding and deep knowledge of the industry requirements relating to the role intellectual property rights in the business. She is also consistent with her appearance in various Courts and Tribunals, pan India, in matters relating to trade marks, copyright, designs, other IP enforcement actions and other hearings before the Trade Marks Registry and Intellectual Property Appellate Board.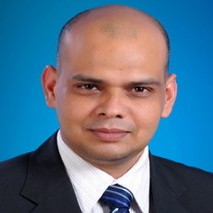 Mr. G Rahul
Interviewee
Mr G. Rahul, Co-founder and one of the partners at illuminIP and heads IPR prosecution. His roots in industry has provided him a variety of perspectives to help counsel and communicate with clients, be they individuals or businesses of all sizes. Rahul has worked for more than 12 years with IP bouquet firm before illuminIP. He has an expertise in overall IP Prosecution and Enforcement. He has represented high profile clients including Fortune 500 and other renowned clients from fields such as Food & Beverages, FMCG, Information & Technology, Banking & Insurance, Fashion to name a few. He also handles Anti-Counterfeiting Raids, Custom Recordals and has a virtuous standing before the Indian Trade Marks Office and various other Tribunals in India.