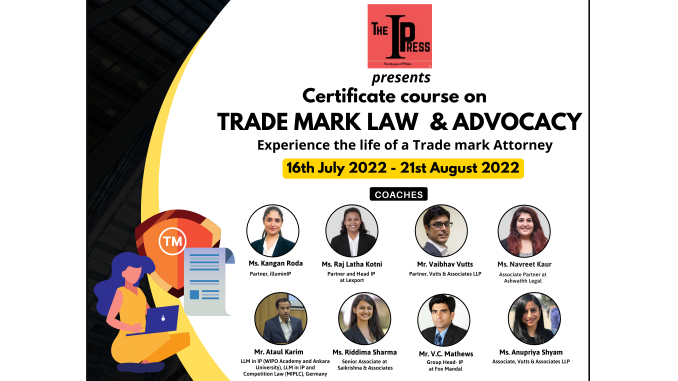 After huge demand for us to start specialized courses on IP, we are here to bring our second edition of the certificate course on trademark law and advocacy.
This course has been designed by a team of industry experts with the objective to bridge the gap between theoretical and practical knowledge of trademark advocacy.
Upon completion of this course, candidates will be well-versed with the intricacies of trademark law and will be on the path to finding the solutions thereof.
COURSE FEE:
Rs. 2499/- for students
Rs. 3499/- for professionals
ABOUT THE COURSE
Protecting a trademark in today's era is not just about filing and getting it registered for your client, the importance of association with a mark has now become a multi-millionaire game. The course intends to equip participants with the understanding of developments in the area of Trade mark law and Advocacy.
Participants will get a chance to work on live cases related to filing, examination, opposition, and advocating a mark for the client.
OUTCOMES OF THE COURSE
Develop research skills required to excel in trade mark advocacy.
Understand the substantive as well as procedural aspects of trademark.
Learn how to build arguments around infringement/defense.
Know the practical in & outs of remedies available in a trademark dispute.
Learn how to draft and interpret provisions applicable to the commercialization of trademarks.
MODULES
Module 1: Basics of trademark and advocacy
• What is a trademark (and in comparison to other IP domains): Brand, trademark, other IP;
• Evolution of trademarks globally, international conventions (Paris Convention, Madrid Protocol, TRIPS etc.)
• Importance of trademark for entrepreneurs and business entities
• Evolution of trademark law in India
• Business valuation for trademarks- geographical limits, time duration, business incorporation
Module 2: Practical training on filing and examination of trademarks in India and other jurisdictions
• What can be trademarked, using names such as trademark, logos and brand names, conventional/ non-conventional trademarks
• What cannot be protected by trademark- well-known trademarks and sections 9, 11, and 13, grounds of refusal
• Trade dress, the overlap between copyright, design, and Patent.
• Searching for an optimal trademark- practical consideration behind a trademark
• Importance of registered and unregistered trademarks: Why should one file a TM application?
Module 3: In & Outs of the strategies adopted in Trade mark opposition proceedings
• Evaluation of examination report by the registry, and resolving issues.
• Advertising of trademark and opposition notices. (Responding to opposition notice) special focus on frivolous oppositions using ample examples to file a robust counter statement.
• Drafting opposition notice and counter-statement, affidavits, submitting evidence against opposition notice.
• What is an infringement and passing off?
• Filing a petition form infringement/ passing off and drafting replies against it.
• Drafting cease and desist notice and responding to it.
• Understanding parallel imports and filing applications with the customs office to prevent infringement from imports.
Module 4: Heads and Tails of advocating a Trade mark
• Protecting trademarks from being generic, monetizing trademarks
• Licensing, merchandising, franchising
• Domain names and trademarks- cybersquatting
• trademarks portfolio- goodwill and monitoring portfolios- Prevent misuse of trademarks by competitors in their comparative ads. (Like Horlicks ad using Complan packaging-is it allowed?)
Module 5: Remedies, renewal and rectification
• Civil and criminal remedies available against the infringer.
• Forums and dispute resolution mechanism
• Understanding groundless threats and how to oppose them
• Application for rectification and renewal of trademarks
• Rights of prior uses, character and personality right and defences