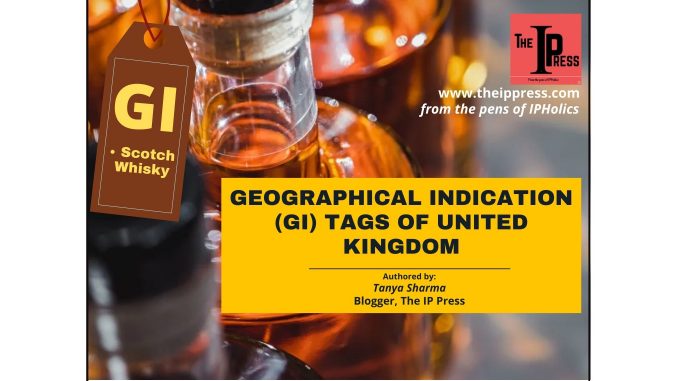 The United Kingdom of Great Britain and Northern Ireland, commonly known as the "United Kingdom (UK)" or "Britain", is an island nation in northwestern Europe, made up of England, Scotland, Wales and Northern Ireland. It is a sovereign country and has a unitary parliamentary democracy and constitutional monarchy. England, birthplace of Shakespeare and The Beatles, is home to the capital, London, a globally influential centre of finance and culture. Today, UK remains one of the world's great powers, with considerable economic, cultural, military, scientific, technological and political influence internationally. It is a recognized nuclear state and has been a permanent member of the United Nations Security Council since its first session in 1946. Till now, UK has been granted with one Geographical Indication (GI) Tag namely, 'Scotch Whiskey'.
Scotch whisky is a manufactured product, whose application for a GI tag was filed by The Scotch Whiskey Association on 5th January 2009 and the product was certified on 27th January, 2011. The Application Details of 'Scotch Whisky' are mentioned below-
Application Details
| | |
| --- | --- |
| Application Number | 151 |
| Geographical Indications | Scotch Whisky |
| Status | Registered |
| Applicant Name | The Scotch Whisky Association |
| Applicant Address | 1st Floor, Quartermile Two, 2 Lister Square, Edinburgh, EH3 9 GL, Scotland, United Kingdom |
| Date of Filing | 05/01/2009 |
| Class | 33 |
| Goods | Manufactured |
| Geographical Area | Scotland |
| Priority Country | Scotland |
| Journal Number | 36 |
| Availability Date | 23/09/2010 |
| Certificate Number | 148 |
| Certificate Date | 27/01/2011 |
| Registration Valid Upto | 04/01/2029 |
Scotch whisky is a whisky produced in Scotland for more than 500 years and is produced according to strictly well defined, traditional methods. It has been exported from Scotland for around 200 years and has acquired a significant reputation worldwide. A unique combination of natural and human factors contributes to its quality and character. The method of production for Scotch whisky is laid down in UK legislation. The laws applying in more than 50 countries worldwide recognize Scotch whisky as being whisky produced in Scotland.
Scotch Malt Whisky is made from three natural raw materials, namely, malted barley, water and yeast; and Scotch Grain Whisky is made from cereals (generally wheat or maize) which are first cooked in order that the cereal starches can be broken down into fermentable sugars. The production of a single distillery, either a Scotch Malt Whisky distillery or a Scotch Grain Whisky distillery, is sometimes sold as a 'Single Malt Scotch Whisky' or a 'Single Grain Scotch Whisky', as the case may be. The greatest proportion of Scotch whisky is consumed as 'Blended Scotch Whisky'. The highly complex task of creating a marriage of individual Single Malt and Single Grain whiskies to make a Blended Scotch Whisky is the responsibility of the Chief Blender of each company. A Blended Scotch Whisky is a careful and judicious combination of anything up to fifty single whiskies of varying ages, compiled to a highly secret formula. The Master Blender assembles his Blend by 'nosing', an art he will have spent many years mastering and perfecting. Sometimes, a number of Single Malt Scotch whiskies are blended together (without any Scotch Grain whisky) to create Blended Malt Scotch whisky. There are also Blended Grain Scotch whiskies created by blending individual Single Grain Scotch whiskies, but these products are rare.
In summary, "Scotch Whisky" means whisky:
Which has been produced at a distillery in Scotland from water and malted barley and sometimes whole grains of other cereals;
Which has been distilled at an alcoholic strength of less than 94.8% alcohol by volume so the spirit has an aroma and taste of the raw materials used;
Which has been matured in an excise warehouse in Scotland in oak casks of a capacity not exceeding 700 litres for at least three years;
Which retains the colour, aroma and taste derived from the raw materials used in, and the method of, its production and maturation;
To which no substance other than water and spirit caramel has been added;
Which has a minimum alcoholic strength for sale of 40% alcohol by volume
Natural factors have a significant effect on the quality and characteristics of Scotch whisky. The wet climate of Scotland ensures that the country has an abundance of clean, fresh water, which is essential for the production of high quality whisky (as water is one of the three natural raw materials for the production of Scotch whisky). The climate in Scotland also has a significant effect on the character of Scotch whisky. The Scottish climate is cool and damp and that has a significant effect on the maturing spirit. A whisky matured in Scotland will mature much more slowly than a whisky matured in a hot and humid climate and the final spirit will taste significantly different. In addition to natural factors, human factors (skills handed down over the centuries) also have a significant effect on the quality and character of Scotch whisky. Scotch whisky is therefore a spirit made within a delineated area of the UK and which, as a result of the specific geographically determined characteristics, created by both natural and human factors, is a unique product.
The Scotch Whisky Association (SWA) is the trade association of the Scotch Whisky Industry incorporated on 22nd April, 1960. One of the SWA's main objects is the protection of the interests of the Scotch whisky trade, both at home and abroad. The Scotch Whisky Association is recognized as the representative body of the Scotch whisky trade by the UK Government and by the European Commission. The SWA has also been involved in negotiations on behalf of the Scotch whisky trade with Governments worldwide since its incorporation. The whole production process of Scotch whisky takes place under the control of 'Her Majesty's Revenue & Customs (HMRC)'. In addition, one of the main purposes for which The Scotch Whisky Association was established was to check that products sold as 'Scotch whisky' worldwide have been wholly produced in Scotland in accordance with the relevant legislation. The members of The Scotch Whisky Association have a very strong interest in ensuring that the reputation of Scotch whisky, which has been carefully built up over hundreds of years, is not damaged by the sale of inferior spirits, which do not meet all the necessary requirements as "Scotch whisky".
The Scotch Whisky Association issues recommendations to its members to try to ensure that the Scotch whisky they supply in bulk is not mixed with other spirit or substances and sold as "Scotch whisky". The Association requires its members to take precautions and in particular recommends that they obtain contractual undertakings from their customers specifying exactly what will be done with the Scotch whisky supplied and that SWA members approve the labels under which the Scotch whisky is to be sold. They are also recommended to ensure that the customer is of sufficient standing that it will comply with the contractual undertakings, it has given. The Scotch Whisky Association also issued 'Guidelines on Age Statements in Relation to Scotch whiskies' with a view to ensuring that illegal and misleading references to age are not made in the labelling or promotion of Scotch whisky. Where a process used in the production of Scotch whiskey is not specifically covered by the statutory definition, producers are required to follow traditional practice. The Scotch Whisky Association issues detailed guidance as regards what is traditional practice in the production of Scotch whisky. If it is proposed to introduce a new practice, possibly for reasons of efficiency, both HMRC and individual companies may consult The Scotch Whisky Association which will confirm whether that practice is permissible or not.
The labelling and presentation of Scotch whisky has always been governed by the general Food Labelling Rules in the European Union or in the country of sale, as well as by traditional practice in the industry. The Scotch Whisky Association is currently in discussions with the UK Government with a view to introducing specific rules governing the labelling and presentation of Scotch whisky.
In October 2019, a 25% tariff was imposed by the US Government on imports of Single Malt Scotch Whisky. This tariff, and retaliation imposed on additional UK and European products at the same time, was awarded to the US by the WTO under the Boeing and Airbus trade dispute because of subsidies given to Airbus by EU member states including the UK. From the date that the tariff was imposed, exports of Scotch whisky to the US fell by more than 30%, amounting to over half a billion pounds in lost exports. In June 2021, a UK-US deal on future aerospace subsidies was agreed which suspended the 25% tariff on single malt Scotch whisky for a further five years. This followed news in March that the tariff was to be suspended for four months, bringing to an end 17 months of export losses for Scotch whisky producers in the biggest markets.
GI Tags of Scotland are-
Manufacturing Product: