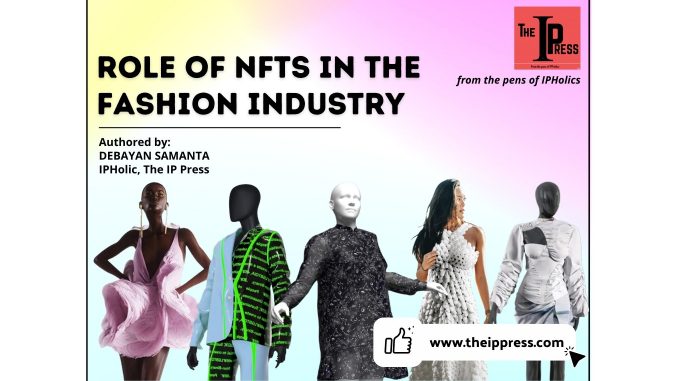 Introduction
NFTs (Non-Fungible Tokens) are digital assets that are unique but have no physical manifestation. These tokens, each of which is made up of a unique sequence of characters, are used to verify the authorship of a design or artwork and may be purchased using cryptocurrencies like Ethereum or Bitcoin. In contrast to digital currencies, which are fungible, NFTs cannot be replaced if lost.
NFTs make it feasible to convert intangible assets like virtual currency into real ones. The blockchain stores a digital ledger of all the transactions that have ever taken place (like the sale and purchase of a pair of Rtfkt and Fewocious sneakers). Because the record cannot be altered once it has been recorded, a transaction supported by the blockchain may also be used as verifiable evidence of the item's purchase price, legitimacy, and ownership.
Because of their rare quality, they are highly sought after by collectors. When prompted why the fashion business should bother about NFTs, Ryan Marsh of Quantus Gallery, which collaborates closely with creators in the digital arena, stated, "Whether we want to accept it or not, the digital space is going to get more and more intertwined into society and to individuals.  NFTs are probably going to remain around for quite some time since industries are continuously seeking methods to maximize development and innovate." Although NFTs have gained in popularity, it is unclear whether or not they have had a profound effect on the fashion industry.
Benefits NFTs can bring along in the fashion realm
NFTs mitigate worries about copycatting and boost the perceived worth of any tangible goods associated with NFT purchases. Brands including Gucci, Louis Vuitton, and Prada who are trying to reach a younger demographic that is particularly interested in the resale market would benefit greatly from adopting this strategy with respect to NFTs. Because the parameters for reselling an NFT may be set beforehand and recorded into the blockchain, brands will be guaranteed a royalty payment on each resale.
It would be simple to identify counterfeits from genuine deal when it comes to high-end luxury items. What's more, the creators themselves may reap benefits for all time. For example, digital artist Beeple is entitled to 10% of the sale price of any of his NFTs that is transacted on a secondary market. One of the artist's NFTs was just sold at auction for $69 million. Designers might make a fortune if accessories like handbags, footwear, and watches were backed by such guarantees.
Royalties may be paid to NFT creators on every sale or transfer of their work. Used-goods marketplaces used to have a hard time drawing in the most discerning shoppers and collectors. NFTs have the potential to alter the status quo of the luxury market indefinitely.
Tokens may be used to provide consumers a variety of benefits, like early access to the latest items, discounts, membership in exclusive groups, and more, all due to NFTs being adopted by the fashion industry.
Dolce & Gabbana introduced Collezione Genesi, an NFT collection with tangible, virtual, and immersive components. Besides the custom-fitted physical replica of Garment from a Dream, an original signed artwork, a unique digital reproduction of the dress the customers are also getting free entry to three of its couture events in Italy for two years. To that end, the NFT proposes a two-year period of customer interaction with the brand.
The Drawbacks of NFTS
There is a considerable environmental risk associated with NFTs. Buying virtual garments may seem like a good way to save energy, but minting assets on blockchain consumes enormous amounts of power. For instance, a research from the University of Cambridge found that Bitcoin minting uses more power in a year than all of Argentina. Cyber assaults and data theft due to hacking are also a real threat. In fact, following a sneaker drop all over its website, Rtfkt was recently the target of a cyberattack. Considering how expensive NFTs currently are, it's unlikely that this issue will go away very soon.
Recent Instances of NFTs being taken up by luxury brands
In 2021, renowned Indian designer Manish Malhotra became the first fashion designer to release a collection of NFTs or one-of-a-kind digital objects that can be purchased using cryptocurrency. Raghavendra Rathore, an Indian clothing designer, also released a collection of artworks as NFTs using blockchain technology in that year, further solidifying this view. The Covid-19 pandemic has boosted the development of the online clothing industry. NFTs open up a new universe of customers to brand products, and may transform the way we perceive fashion by granting insights into customer behavior to retain lifelong ownership of readily accessible, verified assets, and a marketplace for producers and consumers, unusual in the fashion industry.
Even established brands such as Burberry and Gucci have indeed started offering their virtual items, consequently diversifying into an innovative and ambitious portfolio. Burberry released its first digital product, part of the B Series line, in 2021. The luxury company collaborated with game developer Mythical Games to create a multiplayer game wherein virtual toys called "Blankos" exist in a decentralised blockchain environment. Gucci, the epitome of high fashion, collaborated with Superplastic, a leader in digital characters, to create a line of NFT apparel and accessories called SuperGucci. Designed by Gucci's creative director Alessandro Michele and SuperPlastic's digital characters Janky and Guggimon, the collection is a mashup of Gucci's heritage aesthetic with their cutting-edge technology.
Conclusion and Suggestion
NFTs are going to cause a huge upheaval in the high fashion industry. Premium markets and NFTs are based on the concept of scarcity. Collectibles are a big deal in the NFT community, just as they are in the fashion and art realms. NFTs presents a unique opportunity to elevate digital works and assemblages to the status of ultra-exclusive, highly sought-after, one-of-a-kind collectibles. Consumers' physical and digital forms of expression are merging at an exponential rate. The simplest situation of a product NFT is when the asset is a digital representation of a tangible good with independent value.
NFTs will affect advertising and digital storytelling since people are interested in product backstories. NFTs make art and design more democratic, decentralised, and accessible. Fashion and art brands on the upswing should follow NFT developments. To join this area, teaming up with fashion and art figures will be beneficial to the overall business. Small-scale experimental NFT releases can help gauge adaptation. Well-designed and promoted creative efforts might become collectibles. Today's firms using NFTs should let the customers buy rare digital assets like music, concert tickets, apparel, original art, and unique experiences.
Companies should pioneer fresh modalities of client involvement and digital connection at the time of sale. Customers are more likely to repurchase memorable items. All firms can profit from recording, sharing, and appreciating clients' experiences and feelings. A collector's item is more permanent than a novelty for a corporation. NFT will have a huge impact, but how legislation, consumer habits, and the fashion industry adjust to the digital world remains to be seen. Time will tell if it's a change driver or collaborator.
References:
‌ Anuja Saraswat, 'Role Of NFTs In The Fashion Industry: An Overview – Copyright – India' (20 January 2022) <https://www.mondaq.com/india/copyright/1152248/role-of-nfts-in-the-fashion-industry-an-overview> accessed 8 July 2022.
'BURBERRY-DROPS-NFT-COLLECTION-IN-MYTHICAL-GAMES'-BLANKOS-BLOCK-PARTY' (burberry Corporate Website, 4 August 2021) <https://www.burberryplc.com/en/news/brand/2021/Blankos.html> accessed 8 July 2022
Guinebault M, 'NFTs in the Fashion Industry' (FashionNetwork.com, 7 February 2022) <https://ww.fashionnetwork.com/news/Nfts-in-the-fashion-industry,1372225.html> accessed 8 July 2022
Mantilla E, 'Fashion in the Metaverse: How NFTs Are Changing the Fashion Industry' (JD Supra) <https://www.jdsupra.com/legalnews/fashion-in-the-metaverse-how-nfts-are-5557360/> accessed 8 July 2022
Moore K, 'Fashion and Clothing NFTs: How NFTs Will Impact Fashion Ecommerce Trends' (Shopify Plus) <https://www.shopify.in/enterprise/fashion-ecommerce-nfts> accessed 8 July 2022
Nivedita, 'Future of Fashion in NFTs: How the Pandemic Has Pushed Designers to Embrace Blockchain Technology-Art-and-Culture News , Firstpost' (Firstpost, 1 May 2022) <https://www.firstpost.com/art-and-culture/future-of-fashion-in-nfts-how-the-pandemic-has-pushed-designers-to-embrace-blockchain-technology-10614311.html> accessed 8 July 2022
Shay S, 'THE IMPACT OF NFT'S ON THE FASHION WORLD' (19 February 2022) <https://www.linkedin.com/pulse/impact-nfts-fashion-world-samuel-shay> accessed 8 July 2022
e
Debayan Samanta

Author
Debayan Samanta is a fifth-year B.Sc. LL.B Business law Hons student at Bhubaneswar's KIIT SCHOOL OF LAW. He is a driven, outgoing man who enjoys socialising and meeting new people.
His previous experiences and a new perspective on things make her a dedicated team player, strong communicator, and leader. He is fascinated by and interested in intellectual property, media, and entertainment law. He's commonly referred to as the cine critic of the clan. He is a fitness enthusiast who enjoys capturing moments with his camera. He is a highly motivated guy who is sincerely committed to self-improvement.