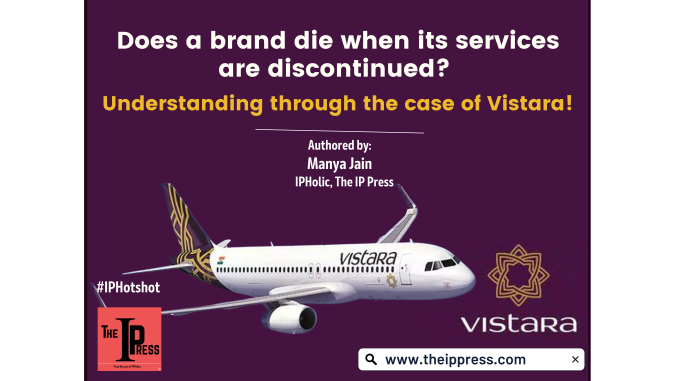 VISTARA has been making the headlines. In the 4th Quarter of 2022, Tata Sons announced the merger of Air India and Vistara which has recently declared that it will cease operating Vistara flights following the merger. Vistara has built a brand and reputation for unmatched quality by being the only airline that offers a premium economy cabin in its eight-year existence. It efficiently replaced Jet Airlines and prevented customers from noticing its absence.[1]
Vistara held the second largest market share after Indigo in the Indian aviation market as per the DGCA 2022 data[2]. With democratic elegance, it has established quite a solid reputation in the Indian markets, offering a gracious standard of service. Owing to its reputation in the Indian market, the brand including but not limited to Trademark "Vistara" receives very well recognition amongst members of the trade and the general public leading to make the brand and Trademark "Vistara" a valuable intellectual property. Owing to the widely earned reputation of the brand and Trademark "Vistara", the founder and Parent organizers can rebrand or enter into different classes of goods or services.
Let's look at the wide earned reputation of the brand and trademark 'VISTARA'
Protection through Trademark Registrations:
MARK: VISTARA
APPLICANT: Tata Sia Airlines Limited
| | | | | | |
| --- | --- | --- | --- | --- | --- |
| S.NO. | CLASS | APPLICATION NUMBER | APPLICATION DATE | STATUS | CLASS DESCRIPTION |
| 1. | 18 | 2881506 | 13/01/2015 | Registered | Leather and imitations of leather, and goods made of these materials and not included in other classes; animal skins, hides; trunks and travelling bags; umbrellas and parasols; walking sticks; whips, harness and saddlery. |
| 2. | 39 | 2748039 | 02/06/2014 | Registered | Transport; packaging and storage of goods; travel arrangement; scheduled domestic and international passenger air transport services; Full Service Scheduled Passenger Airline Services, belly-hold cargo services. |
| 3. | 12 | 2748039 | 02/06/2014 | Registered | Vehicles; apparatus for locomotion by land, air or water. |
| 4. | 16 | 2881505 | 13/01/2015 | Registered | Paper, cardboard and roods made from these materials, not included in other classes, printed matter, bookbinding material, photographs, stationery, adhesives for stationery or household purposes, artists' materials, paint brushes, typewriters and office requisites (except furniture). Instructional and teaching material (except apparatus), plastic materials for packaging (not included in other classes), printers' type, printing blocks all in relation to airlines industry only. |
| 5. | 21 | 2881502 | 13/01/2015 | Registered | Household Or Kitchen Utensils And Containers; Combs And Sponges: Brushes (Except Paint Brushes); Brush-Making Materials: Articles For Cleaning Purposes: Steelwool: Unworked Or Semi-Worked Glass (Except Glass Used In Building); Glassware, Porcelain And Earthenware Not Included In Other Classes. |
| 6. | 28 | 2881504 | 13/01/2015 | Registered | Games And Playthings; Gymnastic And Sporting Articles Not Included In Other Classes; Decorations For Christmas Trees |
| 7. | 25 | 2881501 | 13/01/2015 | Registered | Clothing, footwear, headgear |
| 8. | 9, 35 (LOGO) | 5644292 | 12/10/2022 | Formalities Chk Pass (Send To Vienna Codification) | Downloadable virtual goods, namely, computer programs featuring flying objects, drones, vehicles, aircrafts; downloadable mobile applications for flying objects, drones, vehicles, aircrafts and facilitating payment for flying objects, drones, vehicles….. |
The trademark 'VISTARA' is examined as per the provisions of the Trademark Act, it falls under the category of a 'coined' word which has no known meaning or etymological significance,  Such Coined word receives strong protection in the spectrum of trademark Laws.
Protection through active action against infringement:
Tata SIA Airlines Limited is very conscious of the highest level of judicial protection against any misuse causing infringement and/or passing off of the brand and Trademark "Vistara". The company is extremely vigilant about its IP protection and has taken action(s) against violators/infringers before the relevant authorities.
The brief glossary of a few of such cases is given below:
In the case of Tata SIA Airlines Limited v. M/s. Pilot Aviation Book Store & Others decided on granting a permanent injunction against violation of the trademark "VISTARA". The Court strongly believes that 'VISTARA' is worthy of being declared a Well Known Mark. The court restrained Pilot 18 Aviation Book Store, an aviation studies web portal, from permanently selling and trading products with the 'VISTARA' mark. The court further ruled that due to its distinctive status and outstanding reputation in the travel, aviation, and tourism industries, the mark "VISTARA" is quite well-known in India. The Court further stated that using this mark for any other services that are unconnected to it would cause a great deal of confusion and deceit in the minds of the people. Due to all of this, the court decided that the defendant should be permanently barred from using the "VISTARA" mark and also be required to pay monetary damages.[3]
In the very recent case of Tata SIA Airlines Ltd. vs Vistara Buildtech LLP, the Delhi High Court has allowed the plea of Vistara Airlines to put an interim stay on the use of 'VISTARA' mark by the Construction Company, Vistara Buildtech.[4]
In th case of Tata Sia Airlines Limited v. Shenzhen Coloursplendour Gift Co. Ltd., the Delhi High Court restrains the defendant company selling keychains and baggage tags bearing the 'VISTARA Marks' online Navin Chawla J., raised security concerns of national and international nature at airports due to the infringing material and thus, granted permanent injunction against the infringing defaulter and entitled it to pay Rs. 20 Lakh as damages. [5]
In the case of Tata Sia Airlines Limited vs Vistara Media Private Limited, [6]the Delhi High Court passed an interim order restraining Vistara Media Private Limited from using Tata Sia Airlines Limited's registered and well-known trademark 'Vistara'.


A Brand never dies.
Owing to its widely earned reputation in the eye of members of Trade and the public at large, Vistara could be rebranded at a larger scale and enter into other classes of goods and services. Once a brand has made its reputation in the market, it may expand its services into various industries or classes of goods and services.
A well–known example is such re-branding is "NOKIA". Nokia utilized its reputation after terminating consumer electronic services and moving on to B2B network infrastructure and communication technologies, propelled by a recent logo change.[7]
Tata can also opt for selling or transferring the brand independently of its business as "VISTARA" has become a valuable IP asset for Tata in this short span of time.
In the recent filed infringement suit against the Vistara Buildtech LLP, the intention of Tata can be seen to save its mark and brand. It will be interesting to see if Tata will use its well-made brand.
Author's Epilogue
If the brand is protected by IP rights such as trademarks, copyrights, or patents, those rights may be sold or transferred separately from the company itself. This means that even if the company goes out of business, the brand and its associated IP may still be valuable and continue to exist. It is also possible that a new company or investor may purchase the assets of the defunct company, including the brand, and attempt to revive it under new management. Vistara by Tata is a great example of understanding how a trademark may develop into a valuable IP asset and emphasizes the need for trademark protection. It is also clear how Tata has taken an active role in defending its trademarks by bringing legal action against anyone who infringes upon them.
---
[1] https://www.livemint.com/companies/news/air-india-to-end-brand-vistara-after-merger-11677521516029.html
[2] https://www.news18.com/news/auto/indigo-tops-aviation-market-share-with-54-9-percent-vistara-and-air-india-second-6876115.html
[3] https://indiankanoon.org/doc/25487259/
[4] https://www.latestlaws.com/intellectual-property-news/interim-relief-to-vistara-in-trademark-infringement-suit-against-construction-company-196568/
[5] https://indiankanoon.org/doc/117586922/
[6] https://indiankanoon.org/doc/183499525/
[7] https://bestmediainfo.com/2023/03/as-air-vistara-dies-can-brand-vistara-live