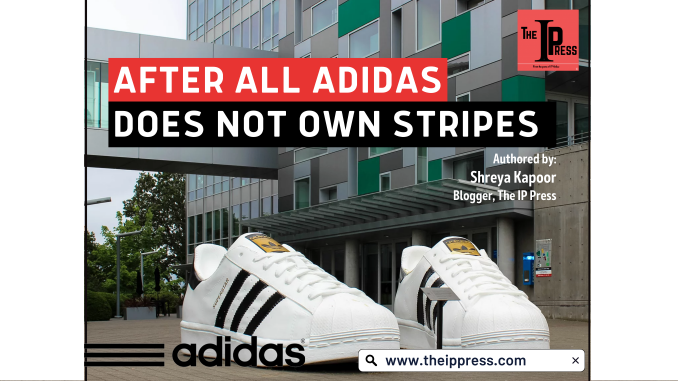 We witness a bunch of stripes on apparel, and we instantly tend to associate it with the sportswear giant Adidas, until we check the brand label. We come across multiple similar marks every day but that cannot be evidenced to conclude a trademark infringement. Trademark law has recently witnessed a series of interesting cases one of them being the very recent landmark battle between the leading sportswear giant Adidas and the world-famous designer Thom Browne. The battle is over the Three-Striped Mark versus the Four-Striped Mark. Ultimately, the world-famous designer Browne won the matter presented before the Manhattan Federal Court and made a very important statement not only in the media but also the trademark fraternity – 'Adidas Does Not Own Stripes!'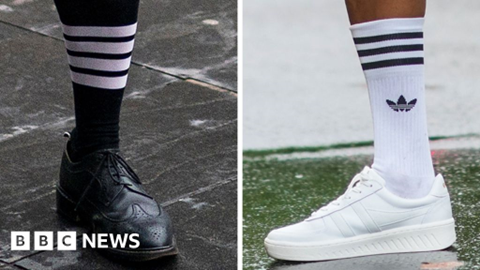 The battle between the two dates to 2007 when Browne was using a three-striped design on a jacket, to which Adidas complained and Browne made modifications.[1] It all started again when Adidas noticed Browne's four-striped design. The parties attempted to negotiate and settle the matter in the summer of 2018 but clearly failed to reach a satisfactory settlement. On June 28, 2021, in New York Adidas filed a trademark infringement complaint against the world-renowned designer Thom Browne alleging that the Defendant's Four-Stripe design is likely to deceive, confuse and mislead the actual and intended consumers of the Plaintiff. Adidas is a sportswear giant company that established its Three-Stripe Mark in 1952, which is very popularly seen in footwear and clothing. It has multiple federal registrations for its Three-Striped Mark, granted by the United States Patent and Trademark Office (USPTO). On the other hand, in 2009, designer Thom Browne introduced a 'four-band design' in the market and has also expanded to the sportswear market. In December 2021, Adidas filed an opposition before the Trademark Trial and Apparel Board (TTAB) seeking to prevent the registration of Browne's four-band design. Adidas based its complaint on the grounds of the likelihood of confusion since the four-striped mark appears to be highly and deceptively similar to the Three-Striped Mark. Thom Browne argued that his company is a high-end fashion brand having a celebrity clientele and the price difference between Browne and Adidas is extremely high. Further, he also argued that stripes are used by multiple brands and Adidas cannot claim a monopoly over something as generic as stripes.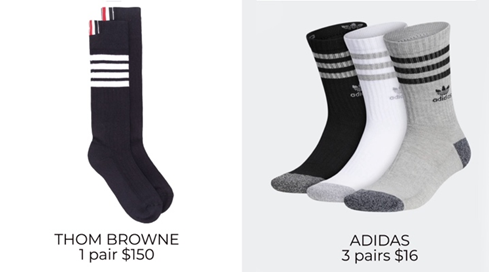 In my opinion, the matter was rightly decided in favor of Thom Browne. A mark consisting of something as basic as stripes cannot and should not be denied registration as it may create a monopoly. In the present case, since Adidas has immense goodwill and reputation, there is no likelihood of confusion since the consumers will associate the three stripes with Adidas and no other company or brand. We live in a dynamic and competitive world where consumers demands more options and alternatives for their goods and services in the marketplace. Preventing registration of a mark having generic similarities only leads to hindering the new players from entering the market and goes against the foundations of competition law as well as trademark law.
Having said that, intellectual property experts may also be of the opinion that Browne may be taking unfair advantage of Adidas due to its reputation and goodwill that it has acquired with its Three-Striped design. Hence, because Adidas has acquired such an immense reputation, it deserves to have stronger protection, especially by the courts favoring Adidas in the present case. Though this may sound as an ideal argument, yet it is important for the courts to maintain the sanctity of trademark law, which is fair competition by giving every player a fair opportunity in the market, which does not lead to a monopoly.
---