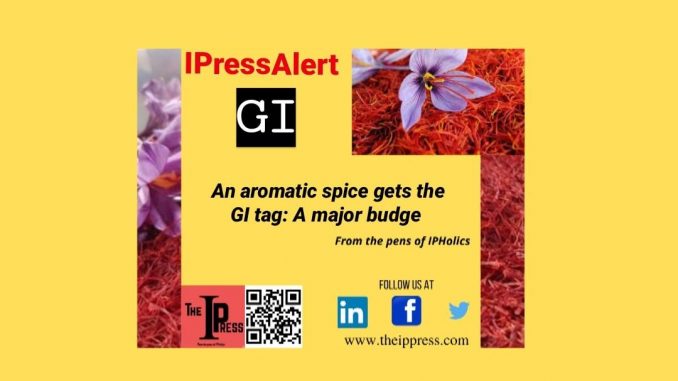 Kashmiri 'kesar' (saffron), known world over for its inimitable taste and rich colour, has got the much-awaited Geographical Indication (GI) tag. The recognition was officially published in the latest GI Journal by the GI Registry with GI no 635.
It is the only saffron cultivated and harvested exclusively in the karewas of Jammu and Kashmir at an altitude of 1600 metres to 1800 metres, the saffron variety is a much sought after spice in the world as well as in the country, famous for its aroma, deep colour and long and thick threads, which gives it uniqueness. It is known and used for its medicinal properties.
The GI journal has stated that "besides having high medicinal value, Kashmir saffron has been associated with traditional Kashmiri cuisine and represents the rich cultural heritage of Kashmir. The Kashmir saffron has gained its name over the ages due to its unique qualities such as high aroma, deep colour, long and thick threads (stigmas) which can be found only in the saffron grown and produced in Jammu and Kashmir."
It serves as a means of livelihood for many farmers in the region but it has not been providing an appropriate turnover to the farmers due to cheaper saffron available in nations like Afghanistan, Iran and Spain.
It is alleged that the legal fortification will help it stand out from the competitors by giving details such as who is the producer, how much has been his yield and the quality of produce.