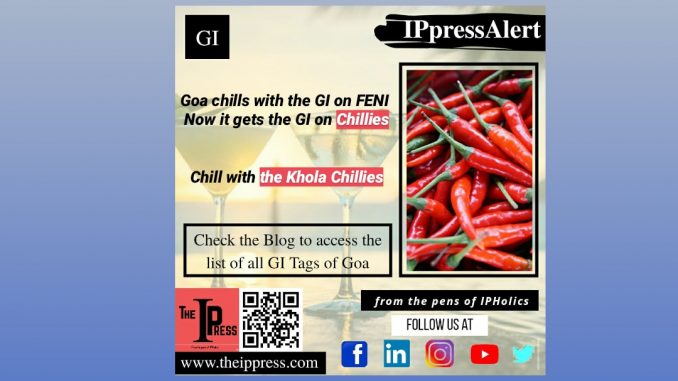 Goa, a State on the southwestern coast of India, gets its second GI tag on Agricultural product 'Khola Chilli' after receiving its first GI tag on Manufactured alcoholic beverage 'Feni' in March 2009. The application for 'Khola Chilli' was filed by The Khola/ Canacona Chilli Cultivator's Group Association (TKCCGA) and the Department of Science & Technology (DST), Government of Goa. [For all documents click here]
The Khola Chilli also known as 'Canacona Chilli' and 'Kholchi Mirchi' is harvested on the slopy hills of Khola village in Canacona taluka region of Goa in which the local soil and climate play a favorable role in maintaining the growth and quality of this chilly. Chilli is known for its taste and colour. Grown only under the rainfed conditions, this famed chilli comes with the uniqueness of brilliant red colour coupled with a medium-pungent flavor.
The Khola chilli cultivator's group involved in growing the variety were awarded the Plant Genome Saviour Community Award. The prestigious award was bestowed by the Protection of Plant Varieties and Farmers' Rights Authority, Ministry of Agriculture and Farmers' Welfare, New Delhi.
Khola Chilli is used in making – 'Racheado Masala', 'Chilli Pickle', Raw Mango Pickle', 'Red Chilli Sauce', 'Khola Chilli Powder' and 'Khola Chilli Flakes'.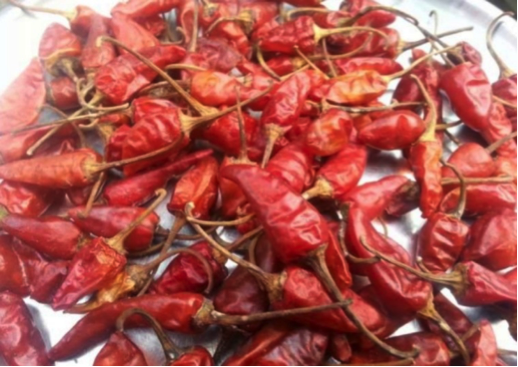 Goa possess the following two GI Tags-
Feni (Manufactured) here
Khola Chilli (Agricultural) [Newest GI Tag] here