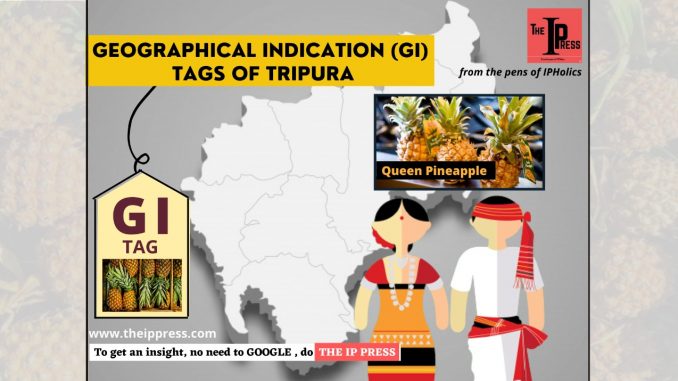 Tripura, being one of the small states of India in terms of size, is rich in flora and fauna, and has a rich cultural heritage. It is a hilly state in North East India and is home to a diverse mix of tribal cultures and religious groups. Tripura has one GI Tag- Tripura Queen Pineapple, which was granted a certificate on 25th March 2015. [Certificate]
Application for a GI tag for a Tripura Jackfruit was also filed, however, the Geographical Indications Registry of Chennai rejected it in 2018 (click here to access documents). North Eastern Regional Agricultural Marketing Corporation Limited (NERAMAC) filed the application. The applicant was unable to provide any historical data or distinctiveness of the product. Failure to do the same, the expert committee rejected the application for the indication of not being an ages-old product rather a fairly new devised term.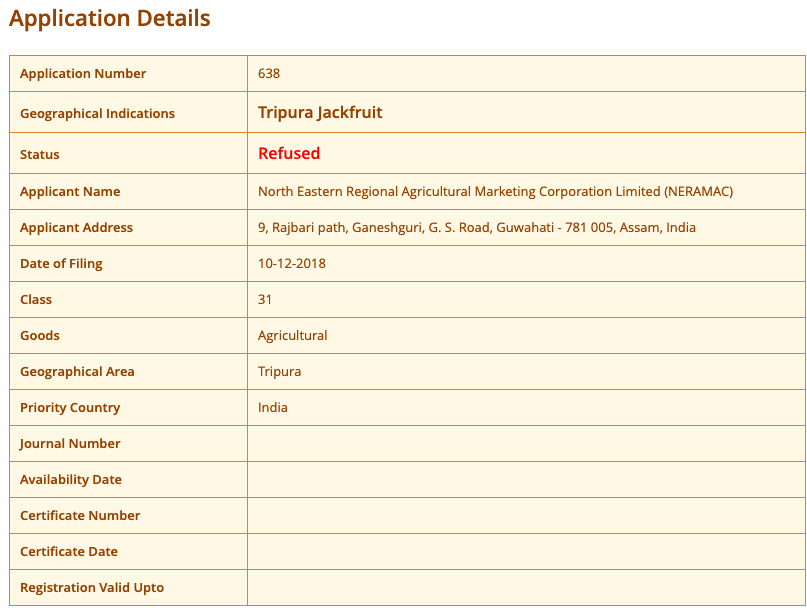 While, Tripura Queen Pineapple is an agricultural product, whose application for GI Tag was also filed by (NERAMAC). (click here to access the documents]. This GI is usually spiny, golden yellow in colour and oozes out a pleasant aroma and flavour at the ripening stage. It is characterized by its perceptible aroma and pleasant organoleptic qualities with comparatively lesser fibre content. Besides this, it is also free from any kind of chemical residue as the farmers of Tripura follow organic cultivation process.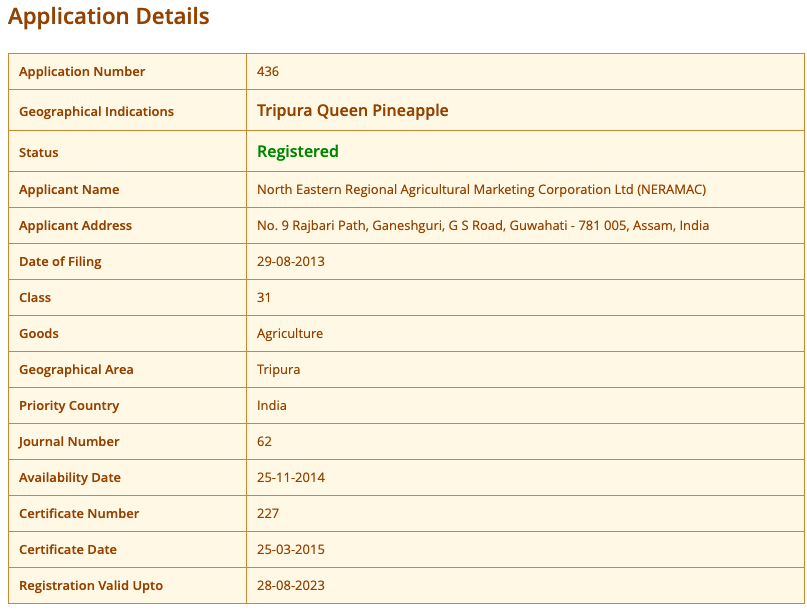 Tripura Queen Pineapple is not a single fruit, but a sorosis. It has multiple, spirally- arranged flowers along the axis and each of them produce a fleshy fruit that becomes pressed against the fruits of adjacent flowers forming what appears to be a single fleshy fruit. The fruit varies from the oval to cylindrical shape; and because of its smaller size and deep eyes, it is not suitable for slices.
Belonging from Bromeliaceae family, Tripura Queen Pineapple is high in the enzyme Bromelain, which is a natural anti-inflammatory that has many health benefits and encourages healing; and the antioxidant Vitamin C, which is essential for immune and digestive systems. The consumption of Tripura Queen Pineapple is good for those long hard days and those heroic sporting injuries.
Tripura Queen Pineapple is cultivated on the Laterite soil, which is rich in humus and low in calcium. The suitable temperature and optimum annual rainfall for the growth of this fruit range between 15.6 to 32.2 degree Celsius and between 1000mm to 1500mm per year. During the cultivation process, no fertilizer or manual application is practised rather it is produced taking leverage of virgin soil and good rainfall. Being dwarf in stature and compact, these fruits are mainly harvested from mid- May to mid- July in Tripura and attract its consumers with its charming golden yellow pulp and delicious fragrance.
Thus, the sweetness and unique aroma of Tripura Queen Pineapple differentiates it with Queen Pineapple of other regions of North East India.
GI Tag of Tripura-
Tripura Queen Pineapple (Agricultural) [here]