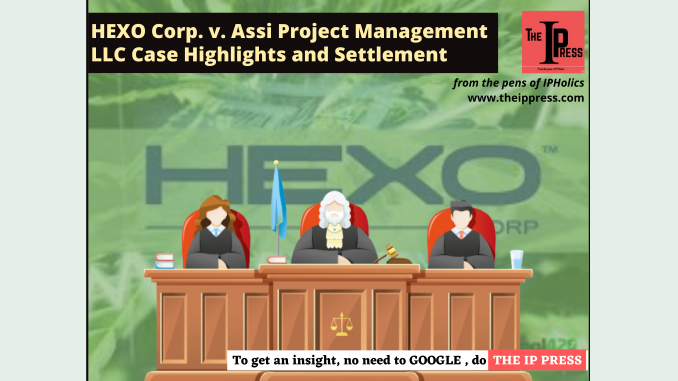 Hexo Corp. is a consumer-packaged goods Cannabis Company that creates unique products to serve the global cannabis market[i]. It was incorporated in 2013 and the main aim of the company was to satisfy the demands of the Canadian medical cannabis market. When Cannabis market was legalized in 2018, Hexo Corp started producing cannabis for both recreational use and medicinal use. The company also established presence in the U.S. market, proof of which is its listing on the New York Stock Exchange back in January 2019.
Hexo Corp. filed an Intellectual Property Trademark lawsuit against Assi Project Management LLC, a company based out of California and its principals in the District Court for the Southern District of California- for the use of the HEXO name and trademark.
Issues and Allegations Raised:
Hexo Corp. alleged that:
Assi was carrying out unfair trade practices.
Assi was infringing the trademark of HEXO by selling CBD products under the name of HEXO CBD without authorization.
Assi Project Management LLC had been selling non medicated hair preparations, perfumes, cosmetic oils, non-medicated balms etc. containing trace amounts of cannabidiol under the name of HEXOCBD[ii].
Roch Vaillan- the General Counsel for HEXO stated that HEXO is well established both in Canada and in the United States and if any other company let alone a company in the same industry uses HEXO's name or trademark, it leads to the creation of confusion in the consumer's mind, which is a threat to the company's reputation and ultimately amounts to unfair trade practice.
After a ferocious legal battle, both the parties finally reached a settlement in the fall of 2020 along with the granting of a permanent injunction against Assi Project Management LLC by the judges of the Hon'ble U.S. District Court of Southern district of California – Andrew G. Schopler and Larry Alan Burns[iii].
Settlement terms:
Defendants have been permanently enjoined from using or registering a company name, trademark or domain even remotely resembling or containing the term HEXO and from using any other mark, name or designation in any manner which is likely to cause confusion as to an affiliation with or association or sponsorship by HEXO.
Defendants have been ordered to destroy all materials which contain any reference to the HEXOCBD products. They have also been ordered to delete all references to HEXO from their websites, social handles etc. and notices have been filed for the abandonment of the infringing HEXOCBD Trademark Application at the U.S. Patent and Trademark Office.
Assi has transferred and assigned all domain names it owns which contain the term or any term resembling HEXO to Hexo Corp.
These terms have been welcomed with open arms by the CEO and Co-Founder of Hexo Corp., Sebastien St. Louis. He has publicly stated that he is very pleased with the settlement terms as it sends a message to other competitors that Hexo does not tolerate any violations of its trademark rights. He has also hinted that in the near future Hexo Corp. shall be partnering with Molson Coors, to diversify its market and be able to sell non-alcoholic, hemp derived CBD based beverages in Colorado.
---
[i] https://www.hexocorp.com/.
[ii] Trademark search information: https://trademark.trademarkia.com/hexocbd-88564532.html.
[iii] https://www.sec.gov/Archives/edgar/data/1690947/000117184320007622/exh_991.htm.
---