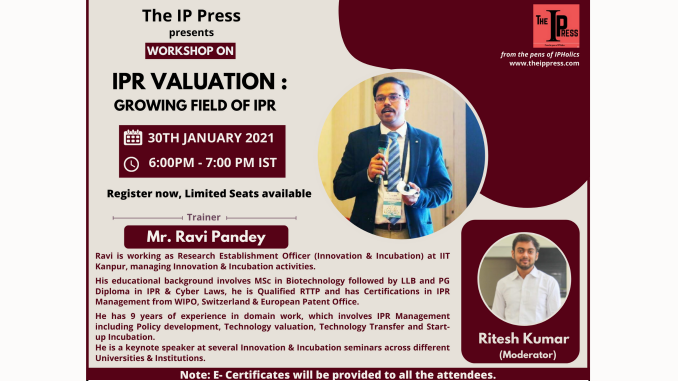 The IP Press presents the Workshop on
IPR Valuation: Growing Field of IPR
Date: 30th January 2021
Time: 6:00PM – 7:00 PM IST
Speaker: Mr Ravi Pandey
Ravi is working as Research Establishment Officer (Innovation & Incubation) at IIT Kanpur, managing Innovation & Incubation activities.
His educational background involves MSc in Biotechnology followed by LLB and PG Diploma in IPR & Cyber Laws, he is Qualified RTTP and has Certifications in IPR Management from WIPO, Switzerland & European Patent Office.
He has 9 years of experience in domain work, which involves IPR Management including Policy development, Technology valuation, Technology Transfer and Start-up Incubation. He has formulated the IPR policy, Staff Entrepreneurship & Faculty Entrepreneurship Policy of IIT Kanpur, he is also the advisor on Innovation & incubation for Jharkhand Government, IIT Jammu, West Bengal Government, SATI Vidisha & Kanpur University. He has been awarded "Outstanding Performance Award" by Start-up India for promotion of Innovation related activities, Impactful Technology Transfer Award by AUTM USA & Master Trainer Award by European Patent Office.
He is a keynote speaker at several Innovation & Incubation seminars across different Universities & Institutions.
Registration Link: https://pages.razorpay.com/pl_GML5oUTbLwLQqO/view
Should you have any query feel free to write to us at events.ippress@gmail.com and cc: theippress@gmail.com