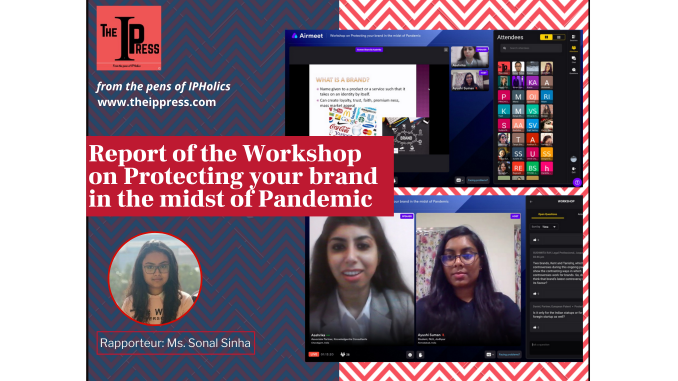 The workshop on "Protecting your brand in the midst of Pandemic" started at 2 PM on Feb 27, 2021. The moderator of the session was Ms. Ayushi Suman who gave a brief introduction of the IP Press and involved the participants in a fun quiz on brands by the time the speaker of the session, Ms. Aashrika Ahuja was getting ready to join. The session kick-started with a brief introduction of Ms. Aashrika Ahuja and the profile of work at her current role at Knowledgentia Consultants as Associate Partner.
Ms Ahuja initiated the session with a PowerPoint presentation (Click here to access) on Protecting your brand in the midst of Pandemic, which consists of the following headers.
What is a brand?
How is a brand different from a trademark?
Value of a brand.
What influences a branding strategy?
Impact of COVID-19 on brands?
Types of risk which impact brands during a pandemic.
Key legal issues.
Practical steps to protect your brand.
Risk management strategy.
A brief on major IPRs including patent, design, trademark, and copyright.
Major cases during the pandemic.

Delhivery Private Limited vs Treasure Vase Ventures Private

Mittal Electronics vs Sujata Home Appliances (P) Ltd. 

Patanjali Ayurveda restrained

Anhueser Busch Llc vs Rishav Sharma & Ors.
Here are the key takeaways from the workshop:
As compared to a trademark, a brand is a more comprehensive and wholesome concept. The brand consists not only of a mark in the form of words or logos but also takes up a personality of its own consisting of numerous other elements than just a presentation. A brand is a social phenomenon that can be a powerful instrument of social change via the employment of proper investment and sound legal advice.
The COVID-19 pandemic had a huge impact on the brands and their trademarks. There has been a huge shift from offline to online consumerism. And because of the increase in the dependence on e-commerce, there has also been an upsurge in counterfeiting. The market sectors consisting of essential goods had minimum to zero impact as people continued to avail services and buy goods that are necessary. A moderate impact was seen in the technology, media and logistics sectors. However, the hospitality and tourism sectors suffered a huge impact.
The speaker discussed some practical steps that can be taken by brands to protect themselves, which were,

Contracts and ensuring performances of the same. It is important to put in place proper and well-founded contracts.
International brand protection audit, to identify how well one's brand and products under the brand are doing in terms of protection.
Judicial protection and enforcement.
Action for infringement.
registration and renewal of protection granted under IPRs.

Apart from the above points, one of the most important points discussed by the speaker was that of Sustainable Branding, the kind of branding strategy that focuses not only on profit-making but also on adding value to the lives of customers. It involves evolving with time and the needs as they keep changing.
Then the attendees posed a variety of questions as follows:
Perceptions on the recent Myntra re-branding.
Questions on recent brand controversies such as those involving brands such as Ptanajali, Apple, etc.
Keeping a track of legal positions of all the brands in a multivendor commerce, and the effect that it has on e-commerce companies.
All questions including the above were patiently answered by Ms Aashrika Ahuja.