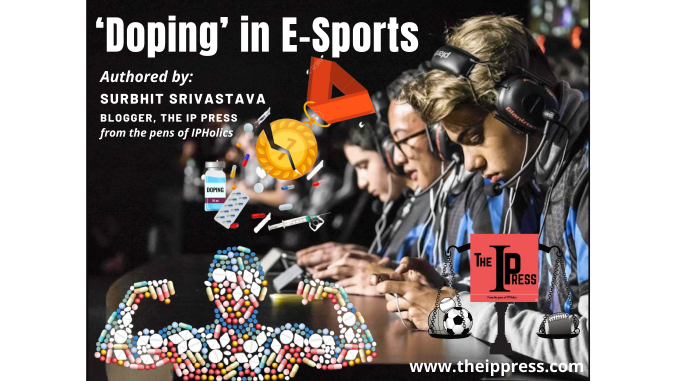 At the recently-concluded Tokyo 2020 Olympics, news surfaced that Indian weightlifter Mirabai Chanu could possibly get her Silver medal upgraded to a Gold, since the winner, a Chinese weightlifter, had apparently failed a doping test after the competition.
'Doping' as defined in the sports circuit means using illegal/prohibited substances in order to gain an unfair advantage over the opponent. Doping drugs serve a variety of purpose – for example, a boxer may take drugs to reduce his weight at a great speed in order to compete in a lesser weight category. Marathon runners may use drugs that increase oxygen absorption in the blood to reduce fatigue. Some commonly used drugs are cannabinoids, diuretics, steroids, etc.
It is a well-known fact that doping is absolutely a no-no in competitive sports. Athletes, if caught doping, can get disqualified from participating in the competition, worse, they may get a couple years' ban. The worst-case scenario would be that they get a lifelong ban so they will never be able to participate in that sport competitively.
Doping has ruined the lives of many professional athletes, but the name that 'shines' among such players has to be that of Lance Armstrong. He was a 7-time winner of Tour de France, which is the flagship event of cycling. Caught doping, he was stripped off his 7 titles and was banned for lifetime from all sports that follow the World Anti-Doping Code.[1] Once a highly respected athlete, he lost everything – from his titles, medals, prizes, fame and ultimately his respect.
So, we know that doping is a big deal in professional sports.
This writing piece, however, is more concerned with the doping used in the new era of sports, which is Esports. It sounds strange at first, since Esports do not require as much physical involvement as conventional sports. Then why do players indulge in doping in Esports in the first place and how is it done?
The curious case of doping in Esports
Esports are a mixture of the real and virtual world. Hence, the possibilities of doping arise in both of these realms. In the real world, the players may take substances like Adderall which is known to induce a laser-sharp focus[2] – it is a huge advantage in first person shooting games (FPS). Players are also known for taking beta-blockers, which relax and regulate the irregular heart activity of the player which may go to certain heights during 1v4 clutch situations.
For doping in the virtual world, these 'athletes' use software or hardware that give them an unfair advantage over their opponent. This may be termed as Mechanical Doping.[3] Now, different classes of games use different cheat software but I will stick to FPS games for the sake of better understanding.
The most commonly used cheat software in FPS are wallhacks (see-through walls), aimbot (aim-assistance) and BHOP scripts (which allow users to move through the map at a greater speed). Hardware cheats are not very common, although they do exist. Mechanical doping does not enhance the physical performance of the players, but instead gives them an in-game advantage which basically makes the game easier to play. In this article, the words 'mechanical doping' and 'cheating' are used interchangeably.
The basic difference between conventional doping and mechanical doping is that while the former enhances the physical capabilities of the player, the latter only gives an in-game advantage. For example: A casual runner might not be able to win a 100m race from a professional athlete, and the causal runner's chances of winning become thinner if the athlete is on performance-enhancing drugs. However, mechanical doping is much more extreme. A person who has just started playing a game may be able to easily defeat a person with a thousand hours in the game if the former is using cheats. The point is – in order for conventional doping to be effective, one actually needs to have the skills, practice and technique to make use of the advantage. This is not essential for mechanical doping which makes it a very big problem.
Measures against Doping
The world of sports has a strict anti-doping code in place, thanks to the measures taken by the International Olympic Committee which initiated the foundation of the World Anti-Doping Agency (WADA).
WADA was established in 1999 and its primary activities include scientific research, education, development of anti-doping capacities, and monitoring of the World Anti-Doping Code (WADC).[4] One of the key elements of the WADC is the list of prohibited substances that it regularly updates. This list contains all drugs and substances which, if found in an athlete's body competing in a competition that adheres to the WADC, will subject the player to sanctions which have been discussed in the introduction section. The athlete in question may get a blanket ban on competing in all leagues that follow the WADC, and since most professional and amateur sport leagues today have accepted the WADC, it can be said that once caught doping, it will effectively end the athlete's sporting career.
The UNESCO International Convention Against Doping in Sport is another noteworthy step in the furtherance of broadening the lines between sports and doping. This Convention is a legally binding document in-line with the WADC, and all signatories to it are required to create their domestic anti-doping agencies, such as the National Anti-Doping Agency (NADA) that we have in India.
Bringing our attention back to Esports, the connection between WADA and Esports is one that has recently been established. In 2013, International Esports Federation (IESF) officially recognized the WADC, and since then, it has worked in conjunction with WADA in order to create a comprehensive anti-doping code in the world of Esports.
The IESF Anti-Doping Code is quite similar to the WADC itself. It defines what doping is, mentions the prohibited substances list, gives details as to how the Federation will collect samples and how they will determine whether the case is passed or failed.
While the IESF-WADC proves itself to be quite effective for regulating traditional doping in Esports, it does not discuss mechanical doping. Article 2 of the IESF Anti-Doping Code which defines the anti-doping rule violations revolves majorly around prohibited substances – their consumption, trafficking and refusal to give samples etc. which are all aimed at combating traditional doping.
For E-doping, there is no universal 'code' like WADC and one of the primary reasons for that is that the world of Esports is far wider than that of conventional sports. In order to combat mechanical doping, game developers have developed various anti-cheat mechanisms that detect whether a player is 'doping' or not. This software usually runs in the background and detects whether any third-party applications are loaded along with the game, which may give the player an unfair advantage over their competitors – like wallhacks, aimbots and scripts. One of the famous example is Valve's Anti-Cheat System (commonly known as VAC).
Moreover, in professional Esports, all players are closely monitored in-game and independent game checkers are employed to keep a watch over each and every player to determine if a player is cheating. In 2018, an Indian CSGO player, Nikhil "forsaken" Kumawat, was caught cheating blatantly in the eXTREMESLAND Finals by one of these game checkers. This cheating scandal caught a lot of heat as later on it was revealed that he had cheated in a lot of other leagues as well. After this scandal, his team, OpTic India had to face a lot of backlash and abuse.[5]
Players caught cheating in professional leagues usually face similar sanctions to that of players caught doping in traditional sports. Lifetime bans, disqualification from leagues etc. are the usual recourses.
The problem with anti-doping measures in E-Sports
Having a uniform approach towards restricting mechanical doping is next to impossible, given the vast realm of possibilities that E-doping as compared to traditional methods of doping. Creating traditional doping substances and drugs involves biological research – doing which seems overkill for a few degrees of advantage in the game. On the other hand, for mechanical doping, hackers have to figure out loopholes from the code/script of the game, which in all seriousness is easier or at least more manageable than unlocking hidden secrets of the human body. As a reason, e-doping seems to involve novel methods which sometimes even the developers are not able to catch up to.
It can also be said that the pace of development of regulations against e-doping is not keeping up with the rapid growth the Esports scene has seen in the last couple of years. Given the COVID-19 pandemic, Esports have grown both in viewership and the monetary value associated. Since cheating/doping ruin the experience of everybody, it is imperative for developers and organizers to put in all they can to totally restrict e-doping. As explained before, e-doping is far more problematic than traditional doping since the amount of advantage it gives is farcical.
Lastly, it is a cat-and-mouse game with anti-cheat software and cheat software engineers. The latter exploit one or more loopholes of the former, then the former develops its software and closes that loophole, and this game continues forever.
Analysis and Conclusion
Doping in Esports, or E-doping, has two facets one of which can sufficiently be covered by existing practices, regulations and legislations. The other facet of mechanical doping is more of an administrative, managerial and most importantly, a technical issue.
In fact, mere legislation cannot reduce or restrict instances of mechanical doping. It can only be majorly solved by technical advancement of anti-cheat software. The use of AI, machine learning and deep learning in developing anti-cheat software is a viable option, which many game developers like Valve have explored.[6]
For the Esports world, the current hopes lie with the game checkers, along with anti-cheat mechanisms and the million watchful eyes of the audience watching their favourite E-Sport. However, these measures cannot alone suffice in the long run. Legislation that can potentially restrict e-doping seems too far from today since the technical aspect of the problem needs to be addressed first. And it is only after this problem has been addressed that effective legislation can be implemented.
Additional References
https://www.esportstalk.com/blog/the-difference-between-cheating-in-esports-vs-traditional-sports/
https://www.g-spr.com/post/digital-doping-doping-in-the-era-of-esports
---
[1] https://www.usada.org/sanction/lance-armstrong-receives-lifetime-ban-and-disqualification-of-competitive-results-for-doping-violations-stemming-from-his-involvement-in-the-united-states-postal-service-pro-cycling-team-doping-conspi/
[2] https://rsrr.in/2019/07/28/understanding-e-doping/
[3] Id.
[4] https://en.wikipedia.org/wiki/World_Anti-Doping_Agency
[5] https://www.sportskeeda.com/esports/the-story-forsaken-professional-cs-go-player-caught-cheating-where-now
[6] https://digital.hbs.edu/platform-rctom/submission/valve-using-machine-learning-and-deep-learning-to-catch-cheaters-on-csgo-794-words/