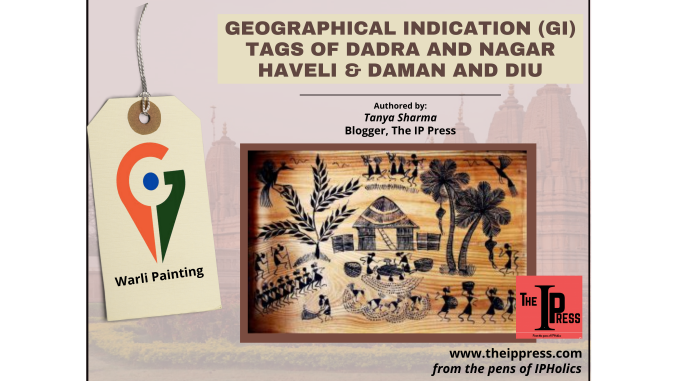 Dadra & Nagar Haveli and Daman & Diu is a Union Territory in Western India which was created through the merger of the former union territories of Dadra and Nagar Haveli and Daman and Diu. The Government of India in July 2019 announced the plans for the proposed merger. Necessary legislations were passed in the Parliament which came into force on 26th January, 2020. This Union Territory is known for its Portuguese culture, monuments and beautiful gardens; also it has been prized with one Geographical Indication (GI) Tag namely Warli Painting.
Warli Painting is a handicraft product, whose application for GI Tag was filed by Adivasi Yuva Seva Sangh on 7th June 2011 and the product was certified on 31st March, 2014. The Application Details of 'Warli Painting' are mentioned below-
Application Details
| | |
| --- | --- |
| Application Number | 239 |
| Geographical Indications | Warli Painting |
| Status | Registered |
| Applicant Name | Adivasi Yuva Seva Sangh |
| Applicant Address | Adivasi Yuva Seva Sangh, AYUSH, Kothal Pada, Village – Waghadi, Post – Kasa, Taluka – Dahanu, District – Thane, Maharashtra, 401607., Thane District, Maharashtra , INDIA, 401607 |
| Date of Filing | 07/06/2011 |
| Class | 16, 20 & 25 |
| Goods | Handicraft |
| Geographical Area | India (Maharashtra, Gujarat, Dadara & Nagar Haveli, Daman Diu |
| Priority Country | India |
| Journal Number | 54 |
| Availability Date | 28/11/2013 |
| Certificate Number | 208 |
| Certificate Date | 31/03/2014 |
| Registration Valid Upto | 06/06/2031 |
The most important unique feature of Warli Painting is that it is made with all natural ingredients namely mud, cow dung, rice paste, etc. The painting is traditionally made on walls so there is no specific size of paintings. Warli Painting makes use of basic geometries like triangle, square, circle and line; and all these shapes are taken from the close observance of nature. It is a unique art which is made with the help of natural ingredient and only one color, i.e. white on brown background of Earth and cow dung. According to the Researchers and Tribal Tradition Expert, Warli Painting is not just a painting or an art, but it is the script by which tribal people share various stories of life. Traditionally, it was used as a mode of telecommunication to pass message.
Warli Paintings are very different from other folk and tribal paintings in India. Their themes are not mythological, nor are their colours as bright as the ones seen in Madhubani Paintings. Neither do they contain the robust sensuality of the paintings found in Eastern India. Instead they are painted on mud and cow dung based surface using natural colours in white. These paintings actually highlight the tribal's daily life and their battle to survive in difficult conditions. Warli Paintings are not just paintings; it is a wordless story of a tribal's life. Also the shapes drawn of human beings and animals on Warli Paintings are totally different from shapes of other traditional paintings.
Comparative difference between Warli Painting and Other Paintings:
No.
Indicator
Rathwa Paintings
Warli Paintings
Saora Paintings
1.
Wall coating
White clay
Red ocher or cow dung
Red ocher or cow dung
2.
Paint
Rathwas use 5 -7 colors extracted from mineral and plant source
Rice paste serves as paint
Here too, rice paste is used
3.
Geometry of figures
No triangular geometry. Drawings are quite advanced. Figures and peoples are common.
Triangles forms the essence of warli paintings
Also have the triangles, but they too draw figures of peoples and animals like the Rathwas
4.
Themes
Princely and royal characters on horse and elephant backs are common. Scenes of sexual intercourse are unique feature of Rathwa paintings.
Scenes of super natural beings, socio cultural activities and so on
Themes of fertility, horse hold activities & agricultural activities are depicted
5.
Sex of artists
Married Men
Married Women
Married Men
6.
Purpose
To promote agriculture and household prosperity, to promote fertility as well
To promote fertility & social communication
Fertility promotion
7.
Twig brushes
Bamboo twigs and shoots
Bamboo twigs and grass stems
Bamboo twigs
8.
Singing
Men sing and shamen reads the paintings
Women (Suhasinis) and dhavleris (main wedding functionary) sing
No one sings
9.
Number of painters
7-8 men paint
7-8 women paint
Only one male painter paints
10.
Resemblance with bhimbetka paintings
Very close, especially figures of horses, elephants and even hunting scenes including bow and arrow
Dance forms in bhimbetka paintings resemble with warli paintings
Figures of birds, animals of saora resemble bhimbetka paintings
To know more about the GI Tags of Dadra and Nagar Haveli and Daman and Diu visit Warli Painting [here].