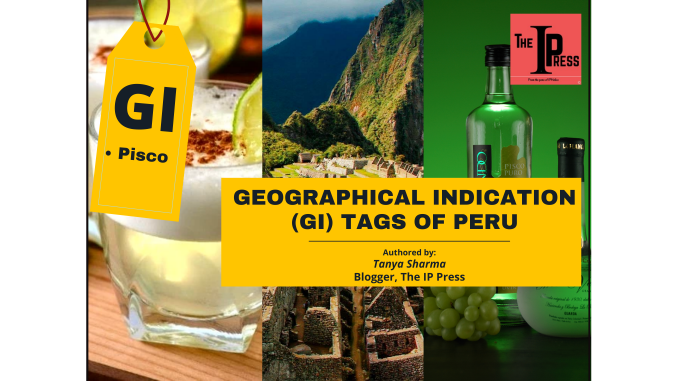 Peru, officially known as the Republic of Peru, is a country in Western South America and is bordered by Ecuador and Colombia in the north; Brazil in the east; Bolivia in the south east; Chile in the south; and Pacific Ocean in the west. Being the 19th largest country in the world and the third largest in South America, Peru is a megadiverse country and is home to a section of the Amazon rainforest and Machu Picchu, an ancient Incan city high in the Andes Mountains. It has one of the longest histories of civilization and is home to various ancient cultures including its Capital Lima, which has important collections of pre-Columbian art. Peru has been awarded with one GI Tag, namely, Pisco.
Pisco is a manufactured product of Peru, whose application for a GI Tag was filed by the Embassy of Peru on 29th September, 2005 and the product was certified on 19th March, 2009. The Application Details of 'Pisco' are mentioned below-
Application Details
| | |
| --- | --- |
| Application Number | 43 |
| Geographical Indications | Pisco |
| Status | Registered |
| Applicant Name | Embassy of Peru |
| Applicant Address | Embassy of Peru, (Ambassador of Peru to India), C-1/24, Vasant Vihar, New Delhi – 110057 Email: amaeda@embassyperuindia.in, commercial@embassyperuindia.in, admin@embassyperuindia.in |
| Date of Filing | 29-09-2005 |
| Class | 33 |
| Goods | Manufactured |
| Geographical Area | Peru |
| Priority Country | Peru |
| Journal Number | 13 |
| Availability Date | 18-09-2006 |
| Certificate Number | 118 |
| Certificate Date | 19-03-2009 |
| Registration Valid Upto | 28-09-2025 |
Pisco is an alcoholic beverage and has a process of pure elaboration. It is a liquor of grape, made with no additives, sugar, water or any other elements strange to the grape itself. It is obtained by distilling fresh must of recently fermented grapes in accordance with traditional methods that maintain the principle of quality established in the production areas previously recognized, namely, the coast of departments of Lima, Ica, Arequipa, Moquegua and the valleys of Locumba, Sama, and Caplina in the department of Tacna, which are all situated in Peru.
Pisco is made exclusively using the varieties of "Pisqueras Grapes" among Quebranta, Negra, Corriente, Mollar, Italia, Moscatel, Alibilla, and Torontel y Uvina. There is no historical documentation to sustain the existence of Pisco in other parts of the world until the 18th century, when its distribution begun to expand because of its renowned and recognized quality and low cost.
Peru and Chile, two South American nations, had a conflict over Geographical Indications (GI) Tag on 'Pisco' Brandy, which ended up in Indian courts. While Peru had sought a GI tag in India for 'Pisco' brandy, Chile opposed the move saying that they also sell the same product with same name, i.e. 'Chilean Pisco'. The GI Registry Office in India passed an order renaming the GI as 'Peruvian Pisco', in order to end the conflict among two countries and the confusion among people regarding the product, and issued a certificate of registration for the same. However, Peru filed an appeal against this order before the Intellectual Property Appellate Board (IPAB) as they wanted the tag as 'Pisco' only. The IPAB, after hearing the case, ruled that the application filed by The Embassy of Peru for GI tag for alcoholic beverage 'Pisco' is eligible for registration. The Embassy of Peru, in their statement, stated that making of Pisco is considered as a celebration and involves a lot of shared work and small-scale industries in its production. Thus, the IPAB, while making its decision, noted that the word 'Pisco' is undoubtedly a denomination of origin exclusively from Peru and it cannot be compared, under any circumstance, with the Chilean liquor and there cannot be any confusion or deception among the customers.
GI Tags of Peru are-
Manufactured Products: