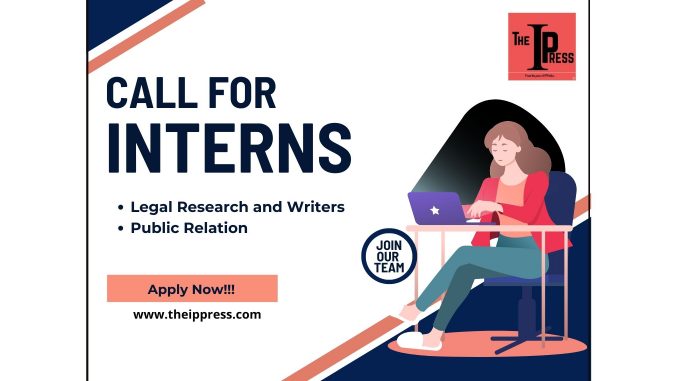 About The IP Press
The IP Press is a team of IP-Holics, who started this blog to ensure access to the latest intellectual property (IP) issues for all the IP hopefuls. Our focus would be to address IP concerns of stakeholders, students, academicians, researchers, start-ups, etc., and guide them to attain and enforce their IP rights.
We, not only hold expertise in law and IP, but our team of technically-skilled professionals, IP specialists, and patent agents gives us a better understanding to deal with technical issues in IP. To focus on national and international issues, we are supported by international IP experts as well.
About the Opportunity
The IP Press is looking to engage the services of legal and Research interns for a duration of 1 month.
Number of Vacancies
10 (Ten)
Duration of Internship
1 Month: From July 1 to July 31, 2022
Responsibilities
Researching on various topics suggested by the team.
Prepare research articles/Research papers and reports as per the instructions.
The interns shall primarily be required to research, and analyze all important policies and judgments which shall be in the form of blogs, articles/ Research papers for publication.
Internship Certificate
The research intern shall be issued a certificate of internship only after completing the internship Responsibilities and tenure.
Perks
– Selected articles/blogs will be published on the website www.theippress.com
-Certificate of completion upon the successful completion of the tenure
-Letter of appreciation based on the performance
– Best ones will get an opportunity to become a part of the core team
– Learn and explore the field of IPR with our experts in the team
– Get an opportunity to avail of team discounts in our courses.
– Recognition for Best Intern
How to Apply?
Click on the link given below to apply for the online internship opportunity.
" https://forms.gle/waHagZQc5xNkiERJ6 "
Application Deadline
June 30th, 2022
For more details
Instagram: https://instagram.com/theippress?igshid=YmMyMTA2M2Y=
LinkedIn: https://www.linkedin.com/company/the-ip-press/
Facebook: https://www.facebook.com/theippress/