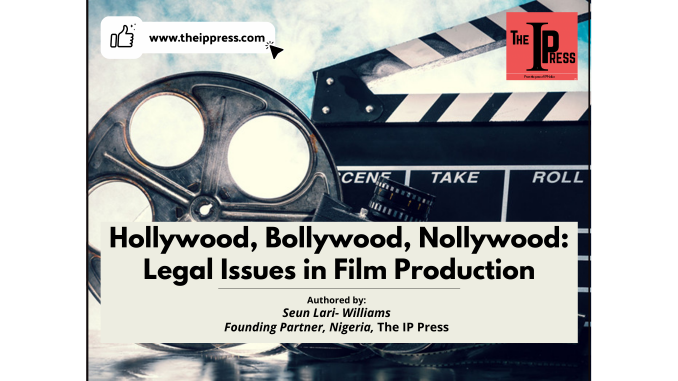 The film industry is a multi-faceted segment of the economy that affects people in ways that go beyond entertainment—it is a driver of social change, it triggers social interactions, and boosts employment.[1] While every nation in the world has an entertainment industry, the U.S., India and Nigeria share something in common—they occupy the top spots in the chart of the largest film industries in the world in terms of number of films released. While Bollywood[2] stands as the largest film industry in the world, in terms of number of films released, Nollywood,[3] Nigeria's movie industry, holds the second position and U.S. stands in the third place. Hollywood and Bollywood also occupy the first two spots for the highest grossing movies industries in the world.[4]
While the most obvious 'actors' in this industry are the actors and actresses (pun intended), it is common knowledge that there are quite a number of professionals behind the scenes, including directors, producers, script writers, photographers, costumiers, etc. However, often, some other professionals are not only behind the scenes but are also often tucked in a corner. One of such professionals are lawyers.
Lawyers do quite a massive amount of work in the film industry, being involved in all the stages of film projects, from pre-production, through production, to post-production. Below are some of the key aspects of a movie project where the input of a lawyer would be invaluable:
Contracts management
It takes a village of contracts to execute a movie project. The different stages of movie production involve a host of relationships and arrangements the negotiation and documentation of which should involve a lawyer. Some of the contracts they may need to be negotiated, drafted or reviewed in the course of a movie production process include financing agreement, production agreement, script writer agreement, location agreement, crew agreements, and cast agreements. If no proper legal advice is sought and obtained in drawing up these agreements, or the relationship progresses without any agreement, liabilities may quickly mount, and undesirable legal consequences may ensue.[5]
For instance, the failure to draw formal contracts and clearly define the rights and interest of parties involved may result in them having a valid copyright claim in your movie where that is not the intention. Conversely, failure to sign a contract or seek professional advice on the terms of a contract signed in this regard might result in the loss of some legal rights or claims that one might have intended to have. See for example, the U.S. case of Aalmuhammed v. Lee[6] where the plaintiff sought a declaratory judgment that he was a co-owner of the copyright in a movie and was therefore entitled to an accounting of the profits from the movie. The plaintiff had helped review the script and had been credited as "Islamic Technical Consultant". The court held that the Plaintiff had no supervisory authority over the film because he had signed a work for hire agreement that prevented him from being a co-author.
Under Nigerian copyright law, in most instances, copyright belongs in the first instance to the author, unless otherwise stipulated in writing under a contract.[7] Therefore, anyone who does a creative work owns the copyright to it in the absence of any agreement to the contrary. Accordingly, it is best to enter into contract that clearly define rights and liabilities with anyone who makes any creative contribution to the work, from those in front of the camera, to those who hold the camera, and even the costume designer.
Another reason why contracts are necessary is delivery. Delivery refers to delivering a film, meaning all technical, practical, quality and legal aspects of the film are completed and delivered to the buyer in order to complete a sale. The issue here is that international distributors of a film demand proof that you have all of your "deliverables," before they sign your film or even attempt to sell it. No international distributor ever wants to strike a sale for your film and then realize you have failed to clear, for example, the music used. Consequently, a lawyer working in the film industry helps with contract negotiation, contract drafting, and contract review.
Compliance with Copyright Rules
Copyright is a double-edged sword. While it protects you as the maker of the film by ensuring you can decide who sees, uses or distributes it, it also protects the creators of elements you use in the film. As such, you must obtain permission from everybody whose work you include in your film, and you may have to pay to use it. For example, the use of a statue in a movie, even if it simply sits on the table as a decorative piece in a scene, may need to be cleared with the sculptor.
In this regard, a useful tip to keep in mind is that you can freely use content you create yourself, anything that is in the public domain (possibly because its copyright protection has expired or it does not qualify to be protected by copyright), something that is available under a Creative Commons Licence (where you simply have to credit the creator or fulfil some other condition). However, all these can be technical. For example, on the issue of public domain, the question of when a work enters the public domain depends on the national laws of each country, and while there are certain treaties and conventions that may apply to multiple countries, there is no such thing as international copyright law. Therefore, one must not assume that just because a work is in the public domain in one country means it is free to use everywhere. By the way, some organisations, such as Getty Images, National Geographic and Corbis, provide stock footages and images that are already cleared for publication.
Another point to note in relation to legal compliance is that in the event that a script has been written by someone else, a filmmaker will need to obtain clearance from the writer to use it. In other words, they must obtain permission or pay to use the script. This is one of the most prevalent legal issues in Nigeria's film industry, where there are a few grey areas. For example, 'writers' have claimed not to have been credited for a story idea they shared orally with a screenwriter or that they own copyright in a movie because the movie was inspired by news reports about their life. Such issues arose in the hit Nigerian movie Òlòtūré.
In the Indian case of Sholay Media and Entertainment Pvt. Ltd. and Anr. v. Parag Sanghavi and Ors.[8] the court held, inter alia, that the use of similar plot, characters as well as the use of the underlying music, lyrics, background score and even dialogues amounted to an infringement of the copyright in the hit movie Sholay, and that the plaintiffs' moral rights had been infringed due to the defendants' distortion and mutilation of the original work.
More recently, an Indian court also dismissed the claim that film titles were not entitled to trademark protection, holding that certain films cross the boundaries of just being ordinary words. 'Sholay', for example, was a mark associated exclusively with the film and the plaintiffs. Even if the plaintiffs had not registered it as a trademark, they would be entitled to protection under passing off law. For this, the court relied on Krishika Lulla & Ors. V. Shyam Vithalrao Devkatta & Anr. (2016) 2 SCC 521, wherein the Supreme Court said that "… no copyright subsists in the title of a literary work and a plaintiff, or a complainant is not entitled to relief on such basis except in an action for passing off or in respect of a registered trademark comprising such titles."[9] While this may serve only as persuasive authority in Nigeria, this author is skeptical as to whether a movie title can be protected under passing off in Nigeria.
Further, if you have music playing in the background of a scene, it would be necessary to obtain permission before it is included in a film. Many producers in Nigeria are now opting for the popular royalty free music available on several online platforms. While these may be a viable option, film producers must be careful: Royalty Free Music is not always royalty free. You read that right. And royalty free music does not copyright free music either. A copyright owner may give you the "right to copy" his music for any purpose but this does not mean that the composer has given up his Performing Rights (should his music end up as background music on television or in a skit). The composer as the Copyright owner may want to receive his composers' royalties for the public performance of his music.
By the way, even the recordings of Public Domain music are not copyright-free. The composition may be copyright-free but not the actual sound recording (also called the Master).[10]
There is also the issue of "waka pass" a term used in the Nigerian film industry to describe extras i.e., characters whose roles are not super important in the movie. To be able to screen your film widely, and potentially seek distribution for it, it is advisable to obtain permission from even "waka pass" extras. In this age of privacy rights, issues can arise. Thus, note that people will generally have to give consent to appear in your film or video project. If using children who are under eighteen, you might need permission from parents.
In addition, the presence of products in a successful movie is likely to enhance the sale of the products – an example is the two-thirds increase in the sale of the candy Reese's Pieces in the months following the release of Steven Spielberg's movie "E.T.". This is called product placement and is sometimes even paid for by the product manufacturer or seller. If some owners of famous marks nevertheless sue movie producers for the unauthorized presence of their marks in a movie, it is usually because they are concerned with what they consider is the negative context in which their products appear. Accordingly, it is advisable that you do not film any trademark or logo that presents company or brand in a negative light. If they feature prominently, you might need to obtain permission from the brand owner, preferably before you start shooting. If the item is in the background and not distinctive, then perhaps permission is not required. If it is and proves to be too much hassle, you may choose to substitute same with a fictitious product. It all depends on context. The general rule is that substantial use or reference will require permission but, if incidental or in the background, no clearance may be necessary.
Other legal issues that can arise from the script include the possibility of being banned by a censors board. Imagine investing all that time and money only to be banned on ground that your content was deemed depraved or corrupt or your failure to describe your film as "based on a true story" or "inspired by a true story".
Avoiding these problems can save you countless legal battles and other undesirable situations in the film industry.
Conclusion
Music ranks as one of Nigeria's major exports. Next in line may very well be the movie industry which already holds the record of Nigeria's second largest employer and the world's second largest movie industry in terms of output. But a lot still depends on how well rights and liabilities are assigned, roles clearly delineated, and laws complied with.
---
[1] The Federal Government of Nigeria described the film industry as the second largest employer of labour in Nigeria.
[2] There seems to be some confusion surrounding the term 'Bollywood' and what it actually refers to but that is outside the scope of this article
[3] Like 'Bollywood', there is also some controversy around the name and definition.
[4] https://medium.com/@inpeaksreviews/top-10-movie-industries-in-the-world-5d47cd9df44f
[5] Sebastian Gibson, 'Entertainment Legal Issues Which Can Arise in the Development of a Film or TV Project,' HG,https://www.hg.org/legal-articles/entertainment-legal-issues-which-can-arise-in-the-development-of-a-film-or-tv-project-52924 (accessed 2 September 2022)
[6] Aalmuhammed v. Lee, 202 F.3d 1227, 53 U.S.P.Q.2D (BNA) 1661, Copy. L. Rep. (CCH) P28,010, 2000 Cal. Daily Op. Service 940, 2000 Daily Journal DAR 1397 (9th Cir. Cal. Feb. 4, 2000)
[7] See generally Sections 10 and 11 of the Nigerian Copyright Act.
[8] Obhan & Associates, 'Bollywood's Sholay Still Reigns Supreme: Protecting Film Titles in India' Lexology, Available:
https://www.lexology.com/library/detail.aspx?g=e4240e12-0c26-4833-8f24-2834c2d763d9 accessed 2 September 2022
[9] Ibid
[10] Gilles Arbour, 'What is Royalty Free Music? What does it mean exactly?' The Beat, 29 April 2011