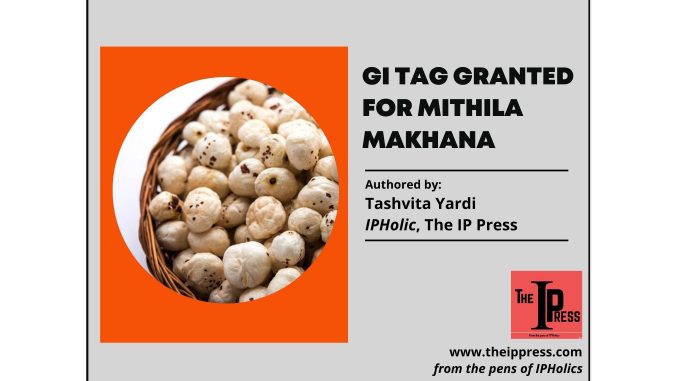 INTRODUCTION
A GI or Geographical Indication Tag, according to the World Intellectual Property Organization[i], is used for items that have a distinct geographical origin or have traits that can be traced exclusively to the location.
When a product is granted the GI Tag status, it confirms that it is created using traditional methods, possesses specific traits, and symbolises the reputation of that geographical origin. Geographical Indication can also be used to safeguard against copyright and patent infringement.[ii]
The Geographical Indication Act became effective on September 15, 2003. Darjeeling Tea received India's first GI Tag in 2004-2005[iii]. Agriculture, handicrafts, foodstuffs, spirit beverages, and industrial items are all eligible for the GI Tag. So far, India has around 400 geographical indications[iv].
The Union Government has designated Mithila Makhana in Bihar as a Geographical Indication (GI). This is the fifth product from Bihar to receive the GI label. Prior to this, Jardalu Mango from Bhagalpur, Katarni Dhaan (rice), Magahi Paan from Nawada, and Shahi Litchi from Muzaffarpur all have GI status. Bihar produces 80% of India's entire supply of Makhana or Fox Nuts. Because Bihar's Mithila area is well-known for Fox Nut agriculture, it has been designated as a Geographical Indication (GI)[v].
WHAT EXACTLY IS A GEOGRAPHIC INDICATION?
A geographical indicator right allows individuals who have the right to use the indication to restrict the third party from using it if their product does not meet the appropriate criteria.
A protected geographical indication, on the other hand, does not allow the holder to restrict someone from producing a product using the same processes as those specified in the standards for that indication. A geographical indicator is often protected by gaining a claim over the sign that forms the indication. Once a product has this label, no one or corporation can sell an identical thing under that name. This tag is valid for ten years, after which it can be renewed.
Other advantages of GI certification include legal protection for the object, protection from unauthorised use by others, and promotion of exports.
A geographical indication (GI) is a label placed on items that have a specific geographical origin and have traits or a reputation that stem from that origin. A sign must identify a product as coming from a certain location in order to operate as a GI.
Furthermore, the product's traits, attributes, or reputation should be primarily owing to its origin. Because the attributes vary according to the geographical location of production, there is an obvious relationship between the product and its original location of production.
MITHILA MAKHANA'S GI TAG
After Basmati rice, Darjeeling Tea, and Mysore Silk, the Centre has now given Bihar's Mithila Makhana (fox nuts) the Geographical Indication (GI) label, which is expected to stimulate commerce and assist manufacturers achieve the maximum price.
The GI registry document confirms that the GI was registered in the name of Mithilanchal Makhana Utpadak Sangh[vi].
Union Commerce and Industry Minister Piyush Goyal announced the announcement on Twitter: "Mithila Makhana registered with GI Tag, farmers will obtain profit and it will be simpler to earn," roughly translated. People beyond Bihar would be allowed to use this auspicious substance with reverence due to the Geographical Indication Tag to Mithila Makhana throughout the holiday season."[vii]
WHAT IS MITHILA MAKHNA?
Mithila Makhana is also known as Makhan in Mithila. Its botanical name is Euryale Ferox Salisb. This particular kind of Aquatic Fox Nut is grown in Bihar's Mithila region and neighbouring Nepal. Fox nuts are high in protein and fibre, as well as micronutrients including magnesium, calcium, phosphorus, and iron. During the Kojagara Puja celebration, the Maithili Brahmin community makes heavy use of and distributes Makhana[viii].
According to specialists, it is one of Mithila's three important cultural characteristics, the other two being pan (betel leaf) and machh (fish). Makhana is known as makhan in Maithili (language), and it has a high nutritional profile. Makhana is high in protein, fibre, iron, calcium, and other elements that are beneficial to our general health. Makhana is also a very versatile cuisine component. From chivda to kheer, a handful of makhana may be used to prepare a variety of delectable dishes[ix].
CONCLUSION
The main aim behind Mithila Makhana obtaining the GI Tag is the farmer's profit, it would be simpler for them to earn more with the help of the GI Tag. This tag awarded will help the farmers get a good price for their produce and thus earn more out of it. This will also have an effect on the earning capacity of the farmers, and will indirectly help them achieve a better lifestyle. People beyond Bihar would be allowed to use this produce with reverence due to the Geographical Indication. The GI tag will also help to protect the farmers of the produce from unauthorised exports and unauthorised users.
---
[i]https://www.wipo.int/geo_indications/en/#:~:text=What%20is%20a%20geographical%20indication,originating%20in%20a%20given%20place.
[ii]https://www.wipo.int/geo_indications/en/#:~:text=What%20is%20a%20geographical%20indication,originating%20in%20a%20given%20place.
[iii] https://ipindia.gov.in/registered-gls.htm
[iv] https://ipindia.gov.in/writereaddata/Portal/Images/pdf/GI_Application_Register_List_14-07-2022.pdf
[v] https://www.financialexpress.com/lifestyle/bihar-mithila-makhana-awarded-gi-tag-know-about-this-variety-of-fox-nut-and-its-benefits/2639737/
[vi] https://indianexpress.com/article/business/govt-awards-gi-tag-mithila-makhana-for-farmers-profit-8102198/
[vii] https://food.ndtv.com/news/government-awards-gi-tag-to-mithila-makhana-all-you-need-to-know-about-mithila-makhana-3275321
[viii] https://en.wikipedia.org/wiki/Mithila_Makhana
[ix] https://en.wikipedia.org/wiki/Mithila_Makhana
Tashvita Yardi
Author
I am a final year law student pursuing law from N.B.T college, Nashik( Savitribai Phule Pune University). I have a keen interest in intellectual property laws. I love reading about IPR and it's latest developments.I am currently interning at Khurana and Khurana, advocates and IP attorneys.