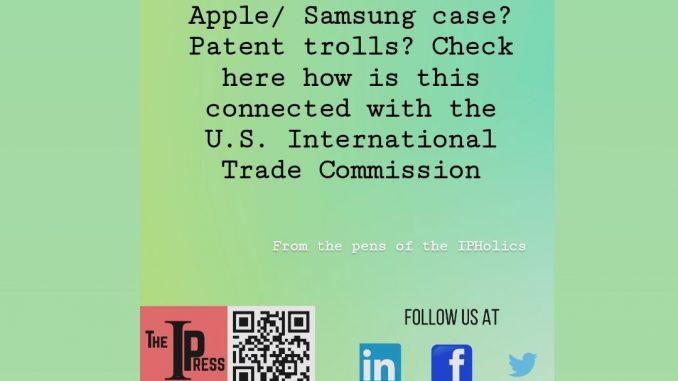 What is the ITC? Having great political influence, the United States has been repeatedly accused of harming developing countries in its attempts to push for excessive IP enforcement. The ITC, U.S. border agency, is a unilaterally created means of border enforcement. The ITC was established in 1916 by the U.S. Congress and the U.S. Tariff Commission to conduct safeguard investigations and to protect domestic industry from allegedly infringing import. Pursuant to Section 337 of the U.S. Tariff Act (19 U.S.C. § 1337) the ITC has the power to investigate claims relating to intellectual property rights, including allegations of copyright, trademark and patent infringement by imported goods. Most of the cases brought under section 337, however, involve patent infringement (85 %).
What is special about the ITC's proceedings? Litigation for patent infringement under Sect. 337 is distinct from litigation in U.S. federal district courts that often makes it a more favorable alternative for U.S. patent owners in the patent disputes. This is explained by the relative swift procedure of the investigation under Sect. 337 that lasts no longer than 12-18 months, whereas patent disputes in a federal district court may last for several years. Furthermore, ITC does not have the authority to entertain counterclaims. As regards remedies, ITC has also been found to be prone to injunctions. For instance, ITC has 100 per cent injunction rate comparing to 79 per cent of the district courts' rate. Moreover, in its decisions, ITC has been more favorable to the plaintiffs (58 per cent of the cases were resolved in favor of the plaintiffs, as compared to 35 per cent in the district courts).
Are the ITCs proceedings discriminatory? In light of the above procedural advantages of ITC, and recalling the purpose of the Commission on protection of domestic industry from allegedly infringing import, it may become evident that foreign goods are subject to different legal standards. Why? Because the owners of imported goods may be sued not only in federal courts, but also additionally by ITC's proceedings under Section 337. In this light, U.S. has repeatedly been accused of violating its obligation under international intellectual property law for less favorable treatment of imported goods than those of domestic production, in claims of patent infringement.
Samsung/ Apple + patent trolls: the counterargument to the charge that ITC applies excessive IP protection? Although it is necessary to make a digression and note that, the ITC's practice is rather contradictory with regard to the domestic companies, whom it seemed to have been called upon to protect by blocking unfair imports. The concept of "domestic industry", for example, encompasses a mere licensing activity of non-practicing entities in the US and completely negates the manufacturing requirement, which led the Сommission to review cases initiated by patent trolls. Another striking example is the case of Samsung v Apple, when ITC, which has the authority to prohibit the import of products manufactured outside the U.S., imposed a ban on the import of iphones (Apple, U.S. company)  founding that 3G- essential patent of Korean company Samsung was infringed.
Apple-Samsung case, therefore, could be an excellent empirical argument in defense of the U.S. as regards national treatment (for example, the European Community was actively pursuing a challenge to the U.S.'s Section 337 stating that it violates, among others, Art III:4 GATT and Article 3(1) of the TRIPs Agreement).
Allegations that the ITC violates the principle of "national treatment". The first example of the GATT Panel's decision regarding a claim that Section 337 violates the principle of national treatment was the case brought by Canada in 1981. The Panel found a violation of the GATT principle of national treatment but, nevertheless determined that it fell within permissible exceptions of IP rights exercising under GATT Article XX(d). It found that the ITC procedures were "necessary to secure compliance with laws or regulations which are not inconsistent with the provisions of this Agreement, including those relating to customs enforcement …".
However, seven years later, after receiving another complaint from EC, the Panel found Section 337 to be inconsistent with Article III:4 of GATT due to the procedural peculiarities described above, such as fixed time limits (not exceeding 18 months), non-availability to file counterclaims, automatic injunctions, etc. The Panel stated that imported products are challenged less favorably and this cannot be justified under the exceptions of Article XX(d).
Certain amendments were introduced to Section 337 in response to the WTO Panel decision, however they unlikely brought it into compliance with WTO and thus a lot of discriminatory procedures continue to be applied by ITC.
Thus, the high number of procedures initiated by non-practising entities and Samsung v Apple case, is rather a consequential distortion of ITC policy in regard of international trade than an argument against less favorable treatment. Mentioned earlier procedural advantages of ITC's procedures, such as non- availability of counterclaims (and thus the absence of FRAND defense as in Apple/Samsung case) make ITC a very attractive alternative in the patent disputes. It is, therefore, clear that the TRIPS-plus nature* of ITC imposes excessive IP enforcement. This recalls to the Panel's findings that ITC's activities violate the international obligations given by the US under international treaties and further changes to Section 337 are therefore required.
What does "TRIPS – plus nature" mean: The TRIPS Agreement establishes minimum standards for the protection of intellectual property and requires WTO members to adhere to those standards and not derogate from them by providing a lower level of intellectual property protection. Meanwhile, the TRIPS provides that Members have the right to incorporate higher and more extensive levels of protection if they choose to do so, ensuring that such protection does not contravene the provisions of this Agreement.
Accordingly, when a country takes an upward initiative on strengthening the protection levels of intellectual property beyond those required under TRIPS, it means that the country creates a TRIPS-plus regime. In case when the introduced measures are more protective than required by the provisions, a country may be found to be in breach of its obligations under WTO agreements (as illustrated by the example of ITC).