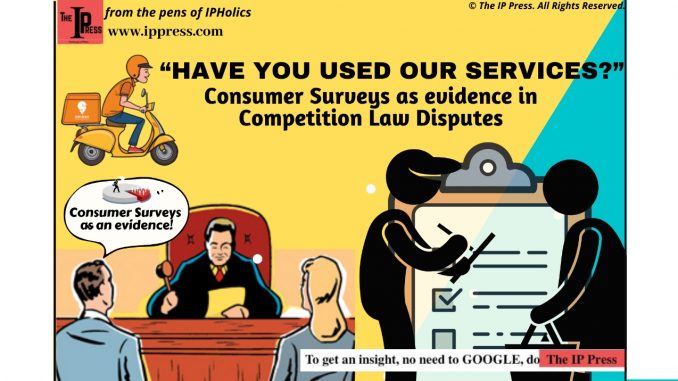 It has been rightly said by Dr. Anne Niedermann "Court decisions and official decrees, however, can only be legitimately based on survey research if the neutrality, validity and understandability of the studies are guaranteed. Of course, the reputation of survey research on the whole is also enhanced when survey researchers can point to the fact that their findings are heeded by the courts when arriving at legal decisions."[1]
Bundl Technologies Private Limited, or as it appears on our smartphone screens as Swiggy, has recently been let off the hook by the Competition Commission of India (CCI) for allegedly abusing its dominant position[2]. Now, there are several articles available online which discuss the issue of food delivery apps maintaining a dominant position one them being here[3].
While scrolling down the order passed by the CCI, my attention was drawn towards paragraph 4 which stated that for establishing dominance the informant adduced a report of a data intelligence and management platform, namely Kalagato which stated that Swiggy is at the pinnacle of the relevant market with 48% market share in terms of transaction volume while Zomato and Food Panda are at 26% and 21%, respectively. Further, the Informants added that according to Red Seer, which is another data intelligence firm, Swiggy leads with a 35-38% market share, followed by Zomato at 25-30%. Based on these assertions, the Informants have asserted Swiggy to be dominant in the relevant market.
However, after due considerations, it was prime facie held by CCI that Swiggy has not abused its dominant position.
What if it was held that it had violated its dominant position?
Right after determination of the prima facie violation, CCI would have issued a direction for investigation[4] deemed to be the beginning of an inquiry under section 26 of the Competition Act. Further, for taking evidence, the commission allows admission of evidence through written signed unsworn statements of individuals or signed responses to written questionnaires or interviews or comments or opinions or analyses of experts based upon market surveys or economic studies or other authoritative texts or otherwise, as material evidence[5]. Therefore, the survey reports relied upon the informants would have been included under this provision.
I can surely say that Swiggy would have challenged the credibility of these survey reports and have them dismissed on the ground of it being hearsay through its written note of arguments or submissions[6].
Survey reports as evidence have not gained much popularity in Competition Law related litigations but they have been popular in Intellectual Property Litigation matters specifically for establishing a case of passing off through the consumer confusion test.
Back in 1997, the Delhi high Court had held that market survey report when filed through affidavits could be looked into and relied upon for the purpose of ascertaining as to whether an interlocutory order could be made or not on the allegation of passing off of a trade mark[7].
However, in 1998, the Delhi high Court took note of a market survey but held, "as it was filed after the institution of the suit, it was considered to be whipped up in favour of the plaintiff". Further, the survey report was held to be irrelevant unless the persons concerned with the survey report are put into the witness box and subjected to cross-examination by the defendants[8].
The Intellectual Property Appellate Board in one of its matter[9] has stated that market survey reports need to be relevant to the date of trademark registration application for recognizing the trademark's distinctiveness, goodwill and reputation.
Although no statutory method or guideline has been provided for conducting consumer surveys, it transpires from the above that it is essential to maintain a kind of strict timeline for conducting these surveys in order to prove its relevancy to the concerned dispute. The survey loses its importance if it is conducted either way ahead of the dispute or after the initiation of the dispute. It has to be conducted at a time in proximity to the date of filing of the matter.
It is important to note that Swiggy in its response to the Commission submitted that the data relied upon by the Informants was from 2018. Therefore, it is vital to conduct or use the survey at the right time to prevent erosion of its relevancy to the dispute.
There are a few articles that have discussed the use of survey evidences in trademark disputes that can be found here[10] and here[11]. These articles mentioned the Draft Manual for Trademark Practice and Procedure of 2009 which included guidelines for conducting surveys. However, it appears that this draft manual did not see the light of day as the present draft manual[12] dated 10th March 2015 does not include any such guidelines. Some of the key takeaways from the 2009 draft manual can be improvised under the Competition laws for conducting surveys. The following are suggestible guidelines for conducting surveys in Competition Law matters:
The interviewee participants should be selected through a pre-determined and approved method by the Commission.
Disclosing the total number of participants to the commission.
Questions must be framed in a way to not to give away the purpose of the survey.
The surveyors should also ask questions pertaining to entities other than the one disputed in order to prevent the participant from understanding the purpose of the survey.
The European Court of Justice has stated that Courts in different member nations have the liberty to employ survey research findings. In the United States, the courts have been reluctant to accept survey evidence because they were treated as hearsay, and therefore, an inadmissible secondhand testimony. As the survey was adduced through the interviewer and the expert witness and not adduced from courtroom cross-examinations hence, it was treated as inadmissible. However, over years of litigations, the courts were able to draw the line between survey evidence and evidence through cross-examination. It was accepted that survey evidences are not dependent on the truthfulness or untruthfulness of an individual's witness testimony rather it determines the knowledge, opinion or reaction of the concerned group[13].
The CCI has already implemented a competition assessment toolkit which empanelled institutions and agencies for conducting surveys and undertaking economic analysis of markets. The aim of this assessment is to analyze upcoming or existing economic legislation and policies from a competition perspective. However it is yet to be seen if the commission increases the scope of the toolkit so as to allow parties for conducting surveys in order to establish an entity's dominant position.
---
[1] Available athttp://citeseerx.ist.psu.edu/viewdoc/download?doi=10.1.1.202.4732&rep=rep1&type=pdf
[2] Available at https://www.cci.gov.in/sites/default/files/39-of-2019.pdf
[3] Available at https://www.rfmlr.com/post/food-service-aggregators-and-their-abuse-of-dominant-position.
[4] Regulation 18 under the Competition Commission of India (General) Regulations 2009.
[5] Regulation 41 under the Competition Commission of India (General) Regulations 2009.
[6] Regulation 41 (7) under the Competition Commission of India (General) Regulations 2009.
[7] Time Warner Entertainment vs A.K. Das 102 (2003) DLT 794
[8] Samsonite Corporation vs Vijay Sales 73 (1998) DLT 732
[9] Brooke Bond Lipton India Ltd. vs Girnar Exports 2006 (33) PTC 412 IPAB
[10] Available at https://www.mondaq.com/india/trademark/375252/survey-evidence-in-trademark-cases-points-to-remember
[11] Available at https://www.vantageasia.com/when-can-surveys-be-used-in-indian-trademark-cases/
[12] Available at http://www.ipindia.nic.in/writereaddata/Portal/IPOGuidelinesManuals/1_32_1_tmr-draft-manual.pdf
[13] Supra note 1.