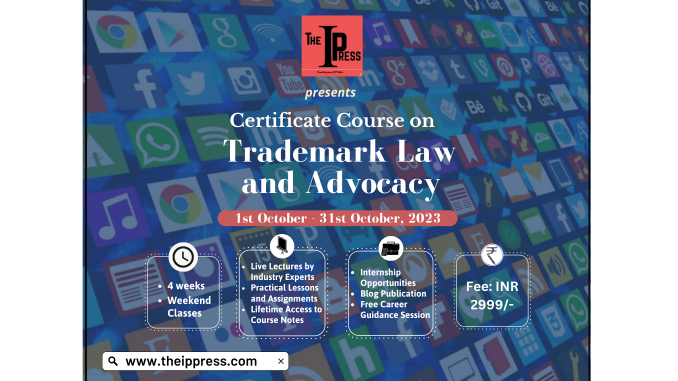 Introducing our Certificate Course on Trademark Law and Advocacy! 📜
Are you ready to embark on a journey into the fascinating world of Trademark Law and the day-to-day life of a trademark attorney? We are thrilled to announce our upcoming course, designed exclusively for law students and young professionals.
📅 Dates: 1st – 31st October 2023
🌟 Weekend live sessions from industry experts!
🔍 About the Course:
Our Certificate Course on Trademark Law and Advocacy is your chance to master the practical aspects of this dynamic field. You'll gain a deep understanding of trademark law essentials through live interactions and engaging assignments. Learn the skills that will help you ace your internship and job applications at a trademark firm!
Here's what you can expect:
📚 Practical Insights: Learn the ins and outs of filing, examination, opposition, and advocating for clients.
🔊 Industry Experts: Exclusive live lectures by seasoned professionals.
📲 Networking: Join our dedicated WhatsApp community to connect with like-minded individuals.
🚀 Career Guidance: Benefit from a free session with an industry expert.
📝 Real-World Experience: Tackle assignments based on practical scenarios with personalized feedback.
📖 Lifetime Access: Enjoy lifetime access to meticulously crafted course materials and modules.
📰 Showcase Your Expertise: Top performers may have the opportunity to publish articles on the IP Press Blog and secure an internship.
𝐎𝐮𝐫 𝐄𝐱𝐩𝐞𝐫𝐭𝐬:
1. Sunaina Brahma, Senior Associate, Khaitan & Co
2. Shreya S Ganguly, Managing Associate, Fidus Law Chambers
3. Advocate Shubham Borkar, Associate, R K Dewan & Co
4. Aman Sagar, Associate, Saikrishna & Associates
5. MATHEWS V.C., Intellectual Property Group Head, Fox Mandal & Associates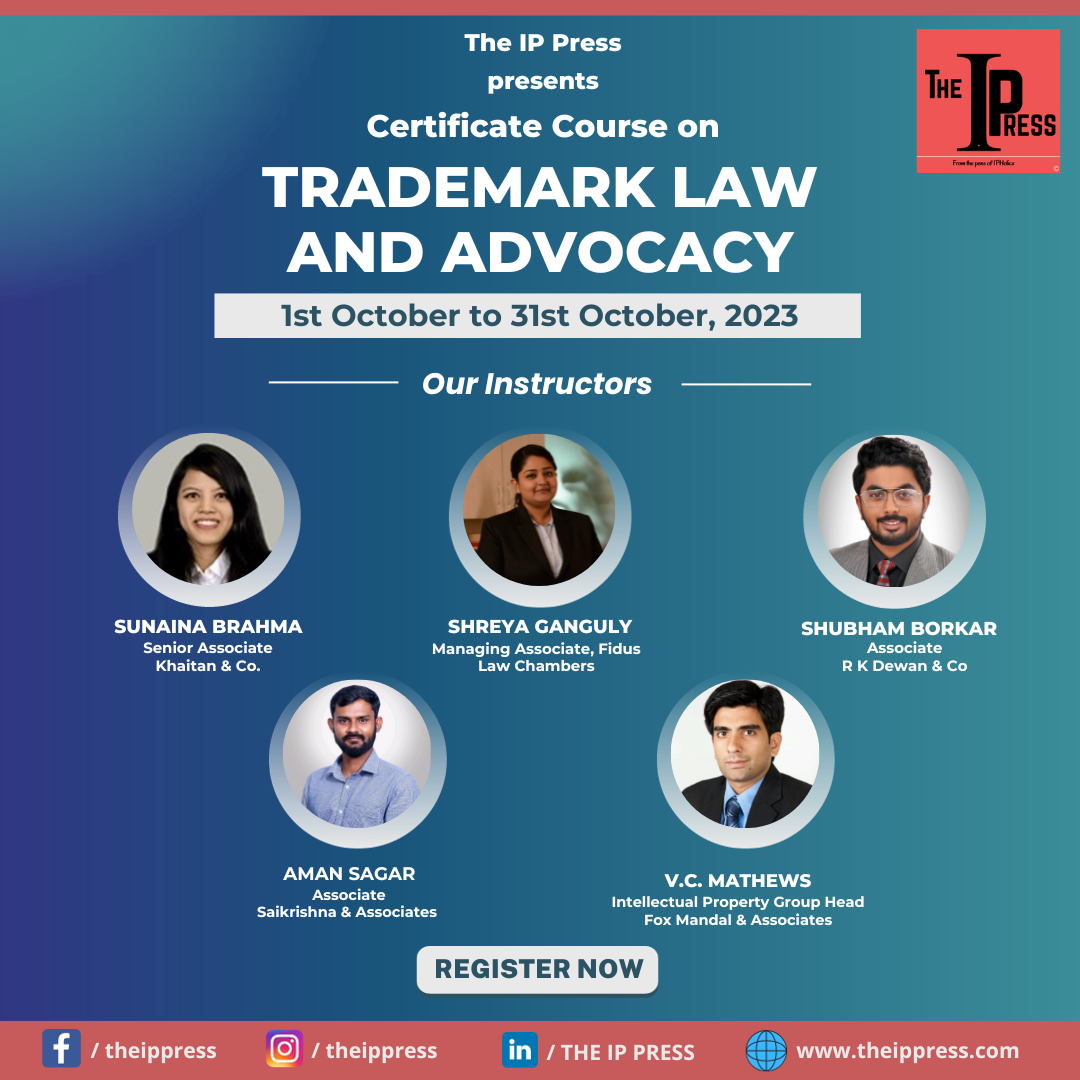 Don't miss this chance to elevate your knowledge and skills in Trademark Law and Advocacy. Whether you're a law student or a young professional, this course is your key to success in this ever-evolving field.
Join us on this educational journey from October 1st to October 31st, and become a Trademark Law and Advocacy expert.
Registration link:
https://docs.google.com/forms/d/e/1FAIpQLSd7HQP-6duSOZKfi8d9t4Ja8PqkDaTe2zWDILsq8xqQpx27XA/viewform?usp=sf_link
For more details:
For more information or clarifications, email us at theippress@gmail.com.