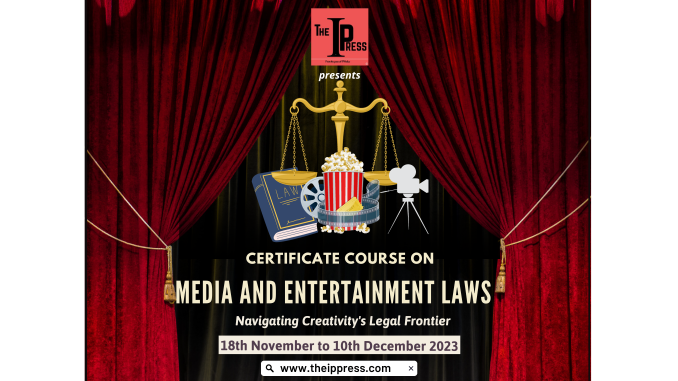 Are you passionate about the world of media and entertainment? Do you want to gain a deeper understanding of the legal intricacies that govern these dynamic industries? Look no further!
We are thrilled to announce our upcoming Certificate Course on Media and Entertainment Laws, running from November 18th to December 10th, 2023. This comprehensive program is designed to equip you with the knowledge and skills needed to navigate the legal landscape of this captivating field.
Dates: 18th November to 10th December 2023
Weekend live sessions from industry experts!
About the Course
In 2022, the global revenue for the entertainment and media industry reached $2.32 trillion. In a world where the realms of media and entertainment continuously evolve and captivate global audiences, a profound understanding of the legal landscape governing these industries is not just beneficial – it's essential. Our Certificate Course on Media and Entertainment Laws is designed to equip aspiring professionals, industry practitioners, and legal enthusiasts with the knowledge and skills necessary to excel in these vibrant and highly competitive sectors. Whether you're a filmmaker, musician, journalist, content creator, or legal professional seeking specialization, this course is tailored to meet your needs.
Here's what you can expect:
Practical Insights: Learn the contracts involved in the media and entertainment industry.
Industry Experts: Exclusive live lectures by seasoned professionals.
Networking: Join our dedicated WhatsApp community to connect with like-minded individuals.
Career Guidance: Benefit from a free session with an industry expert.
Real-World Experience: Tackle assignments based on practical scenarios with personalized feedback.
Lifetime Access: Enjoy lifetime access to meticulously crafted course materials and modules.
Showcase Your Expertise: Top performers may have the opportunity to publish articles on the IP Press Blog and secure an internship.
Modules
1. Introduction to Media and Entertainment Laws
2. Regulatory Framework for the Media Sector
3. Regulatory Framework/laws for the Entertainment Sector
4. Contracts and Licensing in the Music and Film Industry
5. Responsibilities of Entertainment attorney
6. Contracts for IP Monetization
7. Disputes in the Media and Entertainment Sector
Instructors
Learn from the industry experts!
1. Ms. Sheetal Tripathy, Associate Partner at Khimani & Associates
2. Mr. Sujoy Mukherji, Principal Associate at Naik Naik & Company – Advocates.
3. Ms. Akanksha Badika, Legal Manager at Bhansali Productions
4. Ms. Isheta T Batra, IP, Media & Sports Counsel, Founder of TrailBlazer Advocates (TBA)
5. Mr. Adarsh Himatsinghka, Senior Associate at ANM Global
6. Ms. Unnati Rajput, Intellectual property and media law attorney
Registration Link: https://forms.gle/hfCgDAX4FciM7j2v5
For more details: For more information or clarifications, email us at theippress@gmail.com.