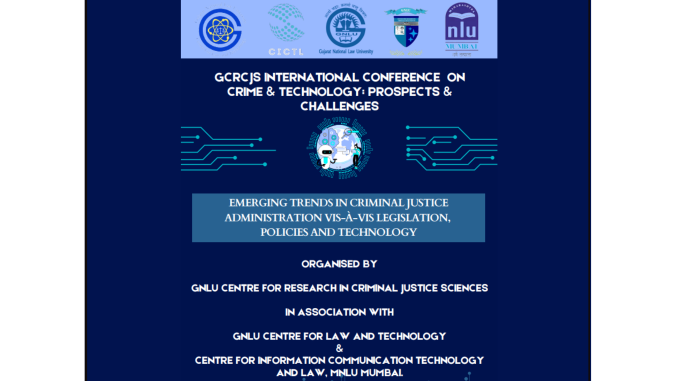 The GNLU Centre for Research in Criminal Justice Sciences is pleased to organize its GCRCJS International Conference on Crime & Technology: Prospects & Challenges on the theme "Emerging Trends in Criminal Justice Administration vis-à-vis Legislation, Policies & Technology" and cordially invite paper submissions for the same.
ABOUT THE CONFERENCE
The Conference aims to provide a platform for legal scholars, students, practitioners, researchers, technologists, and policymakers to deliberate on the evolving landscape of crime in the digital age. This conference seeks to foster insightful discussions, share cutting-edge research, and propose innovative solutions that address the complex challenges posed by the intersection of crime and technology.
CONFERENCE THEMES
The conference will primarily focus on "Emerging trends in criminal justice administration vis-à-vis legislation, policies, and technology."
Assessing the Societal and Legal Impacts of the Bharatiya Nyaya Sanhita, Bharatiya Nagarik Suraksha Sanhita, and Bharatiya Sakshya Bills of 2023;
Role and Implementation of Artificial Intelligence and Technology in Policing;
Financial Cybercrime Legislation and Enforcement;
Analyzing the Role of Policymaking in Regulating the Metaverse;
Role of Technology in Criminal Investigation and Forensics;
Potential of Technology to Improve Administration of Criminal Justice;
Impact of Cyber Security Legislations in India on Various Aspects of Criminal Justice Sciences;
The Concept of Cyber Victimology and its Role in Administration of Criminal Justice.
The above themes and sub-themes are merely indicative in nature and not exhaustive. Participants may submit an abstract on any contemporary, relevant, and connected issue of the intersection of criminal justice administration with technology.
REGISTRATION PROCEDURE
The participants will have to submit an abstract initially which will be vetted. This will be followed by communication of acceptance/rejection being communicated to the participants. Participants who will be accepted will also be sent a link for the payment of fees and the final paper submission.
Participants may submit the abstract in .doc or .docx format here: https://forms.gle/n5bSHUuJUGmc4mPy7
PAPER GUIDELINES
The detailed paper guidelines can be found below:
The name of the author(s) or any other form of identification must not be mentioned in the research paper.
Co-authorship is limited to a maximum of two (2) authors.
Both the author and co-author have to be present to present the paper in order to be eligible for the certificate.
Word limit: 3000 – 4000 words, excluding footnotes, index, and bibliography.
Font style – Times New Roman. Font size – 14 for headings, 12 for body, 10 for footnotes.
Line spacing – 1.5 for body, 1.0 for footnotes. Citation style – OSCOLA. Margins – 1 inch (i.e., 2.54 cm) on each side.
Note: Speaking footnotes are allowed in the submissions but are not mandatory.
The plagiarism limit is 10% in accordance with UGC guidelines.
The use of artificial intelligence for submissions is strictly prohibited and highly discouraged.
The abstracts that are selected for the final paper presentation will be provided with the final paper submission link via email.
IMPORTANT DEADLINES
Submission of Abstract: 1st December 2023.
Notification of Acceptance/Rejection of Abstract: 10th December 2023.
Submission of Full Paper and Payment of Registration Fees: 15th January 2024.
Date of Conference and Paper Presentation: February 03 & 04, 2024.
REGISTRATION FEE
GNLU STUDENTS: 1500 INR.
STUDENTS/RESEARCHER: 2000 INR.
PROFESSIONALS AND ACADEMICIANS: 3000 INR.
FOREIGN STUDENTS/ACADEMICIANS: 90 USD.
ACCOMMODATION
Accommodation will not be provided for the Participants. However, a list of nearby accommodations will be provided to the participants along with the abstract acceptance mail. In case of any queries, the participants can reach out to the email ID provided.
POINT OF CONTACT
Participants may reach out to us at confgcrcjs@gnlu.ac.in.
Mr Vatshal Raval, Secretary: +91 92653 84215.
Mr Shivam Agrawal, Secretary: +91 94130 29413.