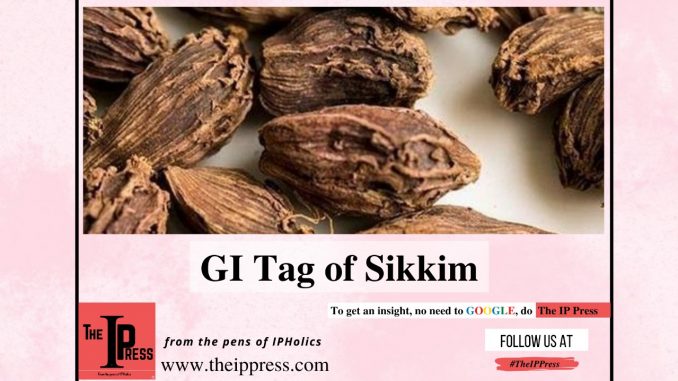 Sikkim is a north-eastern State of India bordered with China (in the North), Bhutan (in the East), Nepal (in the West) and West Bengal (in the South). It is the second smallest state of India and a home of glaciers, alpine meadows and thousands of varieties of wildflowers. The part of Eastern Himalayas adds a dramatic landscape to Sikkim including Kangchenjuna, the highest peak of India and third highest peak in the world. Gangtok is the capital city of this beautiful State. Sikkim's sole product to receive GI tag is its Large Cardamom which was granted a certificate on 23rd March 2015.
Sikkim Large Cardamom is the agricultural product, whose application for GI tag was filed by the North Eastern Regional Agricultural Marketing Corporation Ltd. (NERAMAC). [For all documents click here]. It is a perennial herb with subterranean rhizomes and a pseudo stem of leafy shoots. It is round or oval in shape and posses reddish brown color. The climatic conditions of Sikkim and well drained soils with a loamy texture are perfect for the growth and cultivation for the cardamom. Ramsey, Sawney, Golsey, Varlangey and Seremna are the five main cultivars of large cardamom.
Cardamom, being one of the oldest spices known to mankind, is commonly used in Ayurvedic, Yunani, Chinese and Tibs medical system to treat and cure various ailments like dyspepsia, cough, nausea, vomiting, itching, throat troubles, congestion of lungs, inflammation of eyelids, digestive disorders and pulmonary tuberculosis due to antioxidant properties present in it. In some places, it is also considered as an antidote to either snake venome or scorpion venome.
It has a pleasant aromatic smell and is used in flavoring vegetables and in many food preparations of curries, soups, sausages and meat. In south India, this agricultural product of Sikkim is also used in the preparation of snuff and incense sticks.
GI Tag of Sikkim-
Sikkim Large Cardamom (Agricultural) [here]