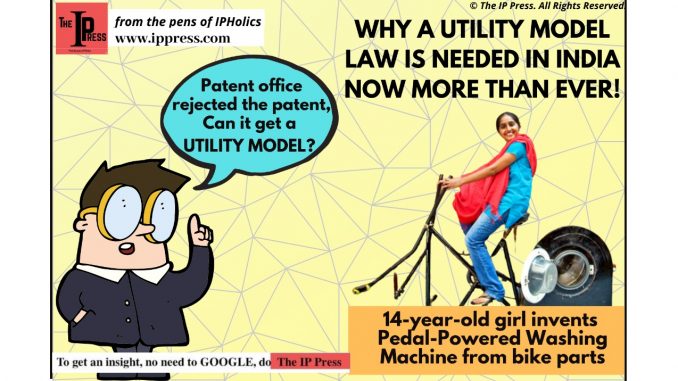 Utility models are referred to by many names such as petty patents, minor patents, short-term inventions and innovation patents among others. Utility models are not the same as utility patents (as used in the United States) but are similar to patents in so far as they relate to inventions. Undeniably, this has probably left you mildly confused, but what I would like you to remember and relate to at the point of time is the Indian word – 'Jugaad'. For the unaware, the word 'Jugaad' features in the Oxford dictionary and is defined as "a flexible approach to problem-solving that innovatively uses limited resources." Utility models are therefore in some sense 'jugaad inventions' or 'jugaad patents'.
From potato peelers equipped with water spraying tubes and cycles that generate electricity to a washing machine that also acts as an exercising machine, Indians have been pioneers in jugaad. It is the Chinese however who seem to be the real pioneers of jugaad based inventions!
China has established itself as a leader in utility model filings. According to the 2016 edition of the WIPO World Intellectual Property Indicators report, the growth in utility model applications was strong between 2008 and 2013, mainly due to filings at CNIPA (formerly referred to as SIPO). In 2015, the CNIPA / SIPO received nearly 94% of all utility model applications filed in the world – the remaining 70 offices accounted for just 6% of the world total. Germany and the Russian Federation each received between 11,000 and 15,000 filings, while the number was close to 9,000 in both the Republic of Korea and Ukraine. Since then, the percentage of utility model filings in China has been only increasing. In 2019, out of the 2.1 million utility model applications filed worldwide, 96.6% of the applications were filed in China, while Germany and Russia accounted for a mere 0.6% and 0.5% applications respectively.
The brilliance of a utility model is that there is no single true definition of utility models, as it differs from one country to another. WIPO, however, defines utility models as follows – "Similar to patents, utility models new technical inventions which through granting a limited exclusive right to prevent others from commercially exploiting the protected inventions without consents of the right holders."
The requirements for obtaining a utility model are far less stringent than for patents. While the requirement of "novelty" is always to be met, the "inventive step" or "non-obviousness" requirement may be lower or absent altogether. Even so, in some countries, the requirement of "novelty" might be applied only at a local level.
The demand for a utility model law in India is not new but there has been a general lack of will to push for the same. Many petty inventions that enter the market are soon run over by ridiculously cheaper versions of the product, many times ironically, imported from China. The Make in India campaign has made way for the "Atmanirbhar campaign", the call now is to Make in India, Make for India and Make for the world. The full realization of slogans such as "go vocal for local" is possible only when grass root innovators, inventors, industries, including the MSME's are made aware of the different types of intellectual property available to them and most importantly, provided with a system that caters to their growth through leveraging intellectual property.
Patent filings in India have inarguably seen an upward trend in the past decade, there is more awareness about a patent today than ever before. Obtaining patents and commercializing them effectively have however proved to be a different ball game altogether. The stringency of patentability requirements coupled with the exorbitant costs involved in the process often contributes to inventors entering the market without adequate IP protection or the shelving of the idea in toto. A utility model overcomes almost all of these flaws by allowing greater flexibility in terms of the requirement, costs and ease of disposal through commercialization. The shorter periods of statutory protection implies quicker entry of products into the public domain. It is an irrefutable fact that, due to the easier and cheaper procedures involved in obtaining and maintaining utility model protection, these are considered absolutely favourable for supporting local or minor innovations by small companies.
The "innovation patent" system launched in Australia, was introduced as a result of extensive research into the needs of small and medium-sized enterprises and with the aim of providing a "low-cost entry point into the intellectual property system".
Perhaps, nobody knows who invented the 'foot-operated sanitizer stands' that we see all around us these days. Would this have been different though, if a utility model law existed in India? What do you think? Should utility model law become a reality in India? Do let us have your inputs in the comments section below.