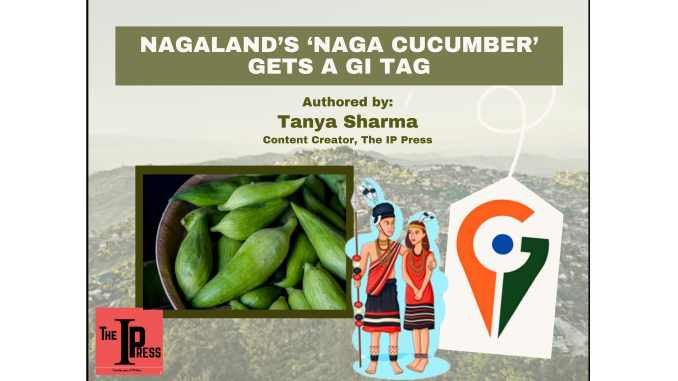 Nagaland is now prized with a total of 4 Geographical Indication (GI) Tags, the latest being "Naga Cucumber". Naga Cucumber is an agricultural product whose application for a GI Tag was filed by the North Eastern Regional Agricultural Marketing Corporation Limited (NERAMAC) on 10th December 2018 and the product was certified on 14th September 2021 [click here to read all documents]. The Application Details of Naga Cucumber are mentioned below-
Application Details
| | |
| --- | --- |
| Application Number | 640 |
| Geographical Indications | Naga Cucumber |
| Status | Registered |
| Applicant Name | North Eastern Regional Agricultural Marketing Corporation Limited (NERAMAC) |
| Applicant Address | 9, Rajbari path, Ganeshguri, G. S. Road, Guwahati – 781 005, Assam, India |
| Date of Filing | 10/12/2018 |
| Class | 31 |
| Goods | Agricultural |
| Geographical Area | Nagaland |
| Priority Country | India |
| Journal Number | 141 |
| Availability Date | 11/09/2020 |
| Certificate Number | 408 |
| Certificate Date | 14/09/2021 |
| Registration Valid Upto | 09/12/2028 |
The cucumber (Cucumis sativus) is a widely cultivated vegetable plant and belongs to the gourd family of Cucurbitaceae' and genus of 'Cucumis'. This is basically a creeping vine that bears cylindrical fruits that are mostly used as a vegetable. Though cucumber is technically a fruit, it is widely considered as a vegetable. Much like tomatoes and squash, however, their sour bitter flavor contributes to cucumbers being perceived, prepared, and eaten as vegetables and there is no conflict in classifying as both a fruit and a vegetable.
Cucumber has been traditionally cultivated by Naga farmers in their 'Jhum' fields as a mixed crop mainly during the karif season (April-May). It is one of the important component crops in the jhum cultivation. This is primarily grown as a cash crop along with paddy. However, now the "off-season" cucumbers from different districts of the Nagaland especially from the Mokokchung district have gained much popularity within the state and now they have become a trend amongst the farmers in the district. Some tribes like Konyak are found to grow cucumber all throughout the year by the seed-to-seed method depending upon the soil type. Many different local varieties of cucumber which are soft, juicy and have a sweet taste are grown throughout Nagaland. Naga Cucumbers are a kind of fruit that differ in taste, shape, and size from those available in other parts of India.
Cucumber has many health benefits and has become one of the most important parts of food diets as well as shin diet. When mature, the cucumber fruit contains 90% water, and though not particularly high in nutrients, its flavor and texture have made it popular for use as a fresh addition to salads as well as pickled and prepared relishes. However, it is rich in Potassium content and crude fibre.
It is a popular vegetable crop used in Indian traditional medicine since ancient times. This vegetable is very high in water content and very low in calories. Research conducted has shown many medicinal properties of cucumber. Traditionally, this plant is used for headaches; the seeds are used as cooling and diuretic and the fruit juice is used as a nutritive and as a demulcent in anti-acne lotions. The juice of leaves are used as an emetic in acute indigestion in children. The fruits contain erepsin enzyme, Vitamin B1 and C, ascorbic acid, proteocytic enzyme, rutin, oxidase, succinic and maleic dehydrogenases, and so on. Several investigations revealed that it is anti-diabetic, anti-ulcer, moisturizing, antioxidant and analgesic property of the fruit extracts. The seed extracts were found effective on controlling the loss of body weight in diabetic rats and against tapeworms, cytotoxic, anti-fungal, and anti-bacterial activity that has been reported from leaves and stems extract. It has also shown wound healing activity.
Cucumber has a cleansing action within the body by removing accumulated pockets of old waste materials and chemical toxins. Fresh fruit juice is used for nourishing the skin. It gives a soothing effect against skin irritations and reduces swelling. Cucumber also has the power to relax and alleviate the sunburn's pain. The fruit is refrigerant, haemostatic, tonic and useful in hyperdipsia, thermoplegia, etc. The seeds also have a cooling effect on the body and they are used to prevent constipation.
Cucumbers have long been associated with the spa world and topical skin treatment. Apart from their cooling effect on skin, cucumber slices offer many benefits to the eyes and surrounding tissues through their hydrating properties, which work to reduce dehydration, their high levels of Vitamin K help in reducing dark circles, and the lignans they contain help in reducing inflammation. Additionally, cucumbers have been used to treat wrinkles and sunburns and have been used as a moisturizer and skin brightener by inhibiting tyrosinase.
Being a cross-pollinated crop, it shows large amount of genetic variation of fruit size, shape, skin colour and vegetative characters. In Nagaland, cucumber has been cultivated from the ancient past and during the long course of cultivation many land races with distinctive qualities have evolved. These are very distinct in their taste, flavor, texture and size from those grown elsewhere.
Lastly, the Naga Cucumber is grown completely organically and can be grown both in summer and winter. Containing a high level of water content, Naga Cucumber could be a great supplement to drinking water or even serve as an alternative to consuming sports drinks. Being one of the most alkaline foods and because of its triterpenes, Naga Cucumber works well to regulate diseases that involve the immune system.
To read more on 'GI Tags of Nagaland' click here: