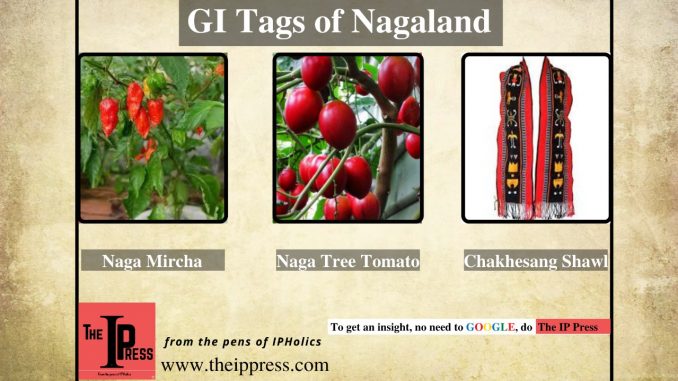 Nagaland is a landlocked mountainous state in the northeast part of India bordered with Arunachal Pradesh (to the North), Assam (to the West), Manipur (to the South) and Sagaing Region of Myanmar (to the East). This state is famous for its forestry, tourism, insurance, real estate and miscellaneous cottage industries. Rich in its cultural heritage and flora and fauna, Nagaland is a home of many indigenous tribes. Kohima is the capital city of Nagaland which suffered a lot in World War II. Nagaland has been gifted with Geographical Indication (GI) Tags to its 3 products. The latest product to receive its GI tag is Chakshesang Shawl on 24th October, 2017 [Certificate].
Chakshesang Shawl is a handicraft product whose application for GI tag was filed by Chakshesang Women Welfare Society on 1st January, 2016 [For all documents click here]. Named after the tribe "Chakshesang", these shawls are different from other shawls found in the North Eastern region of India in respect of uniqueness in the materials, patterns, making, wearing and inherent of the shawls.
These shawls not only looks attractive on the Naga people but also embarks the social significance which invokes peace and reconciliation, blessings passed by parents upon their son, ceremony for paddy yield, etc.
These shawls have their own unique method of production. They are made from cotton and from unconventional natural fibers such as Nettle, Deccan jute and bark of Debrege tree. Even the dyeing on the shawls is done from the natural material collected from the forest.
Thus, the patterns, designs and traditional motifs sewn on the admiring multi-colored Chakshesang Naga Shawls represents beauty, prosperity, happiness and commitment which cannot be seen on any other tribal shawls seen so far.
GI Tags of Nagaland-
Naga Mircha (Agricultural) [here]
Naga Tree Tomato (Agricultural) [here]
Chakshesang Shawl (Handicraft) [here]