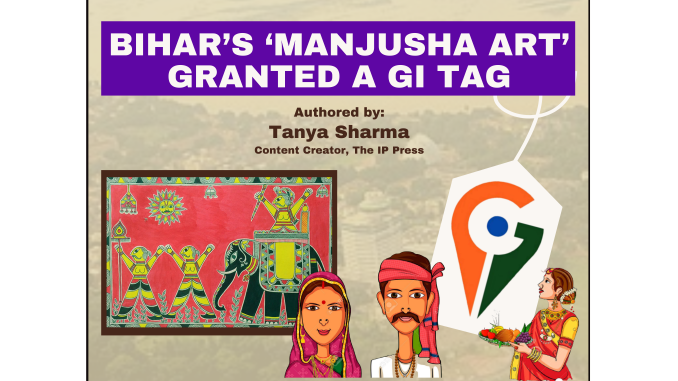 14 GI Tags have been granted to the state of Bihar, the latest being 'Manjusha Art'. Manjusha Art is a handicraft product whose application for a GI tag was filed by the Upendra Maharathi Shilp Anushandhan Sansthan on 7th August 2019 and the product was certified on 14th September 2021 [click here to read all documents]. The Application Details of 'Manjusha Art' are mentioned below-
Application Details
| | |
| --- | --- |
| Application Number | 656 |
| Geographical Indications | Manjusha Art |
| Status | Registered |
| Applicant Name | The Upendra Maharathi Shilp Anushandhan Sansthan |
| Applicant Address | Patliputra Industrial Area, Patliputra Colony, Patna, Bihar, India, 800 013 |
| Date of Filing | 07/08/2019 |
| Class | 16 |
| Goods | Handi Crafts |
| Geographical Area | Bihar |
| Priority Country | India |
| Journal Number | 136 |
| Availability Date | 22/05/2020 |
| Certificate Number | 386 |
| Certificate Date | 14/09/2021 |
| Registration Valid Upto | 06/08/2029 |
Manjusha Art is the folk art of the Ang Region (Bhagalpur, Bihar). It is based on Folklore of "Bihula-Bishari". Manjusha Art is also known as Angika Painting, Snake Painting, and Manjusha Kala. This art has major significance which makes it different from other folk art. It is characterized as line drawing art and contains only three colors namely, pink, green, and yellow. The motifs of Manjusha Arts are inspired by religious and cultural beliefs of the Ang Region.
Manjushas are an Indian art form. They are temple-shaped boxes comprising eight pillars. They are made up of bamboo, jute and paper. They also contain paintings of Hindu Gods and Goddesses and other characters. These boxes are used in Bishahari Puja, a festival dedicated to the Snake God that is celebrated in Bhagalpur and in nearby regions.
Borders are very important in Manjusha Art and are usually made in the form of Belpatr, Lehariya, Triangle, Mokha and series of snakes. Manjusha Art is a line drawing art and is a scroll painting. In this art, characters are displayed as the X letter of the English Alphabet. Major motifs of Manjusha Art are Snake, Champa flower, Sun, Moon, Elephant, Turtle, Fish, Maina Bird, Kamal Flower, Kalash Pot, Arrow & Bow, Shivling, Tree, etc. Major characters of this art are Lord Shiva, Mansa Devi (Bishari), Bihula, Bala, Hanuman, and Chandu Saudagar.
Manjusha Art is believed to be the only art form in the history of art form in India which has a sequential representation of the story and is displayed in a series. Traditionally, Manjusha paintings were done by hand which is tedious, time consuming and is a laborious process. But in due course of time with easy availability of different styles of painting, these paintings can be brought down on cloth and handmade paper by using tri colour printing techniques. Hence, in the present study, an attempt was made to develop designs inspired from Manjusha paintings of Bihar for apparel, home furnishing, pen stand, flower pot, wall hangings, decors, and accessories, etc.
To read further on "GI Tags of Bihar" click here: