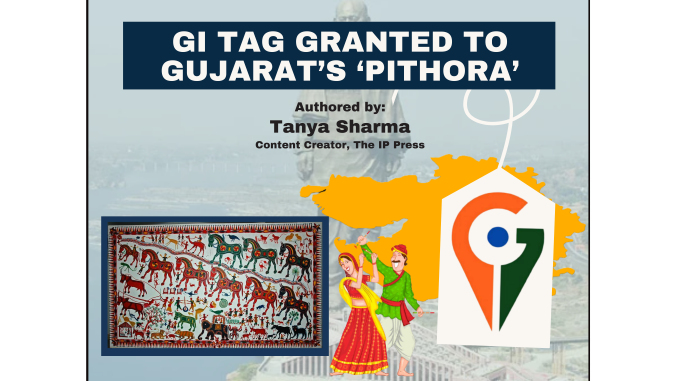 Gujarat has bagged a total of 17 Geographical Indication (GI) Tags, the latest being 'Pithora'. Pithora is a handicraft product whose application for a GI Tag was filed by Pithora-GI on 23rd January 2019 and the product was certified on 14th September 2021 [click here to read all documents]. The Application Details of 'Pithora' are mentioned below-
Application Details
| | |
| --- | --- |
| Application Number | 644 |
| Geographical Indications | Pithora |
| Status | Registered |
| Applicant Name | Pithora – GI |
| Applicant Address | C/o. Rathva Kamliben Sukhrambhai, Rani Bungalow Compound, AT. PO. TA., District: Chhotaudaipur – 391 165, Gujarat, India |
| Date of Filing | 23/01/2019 |
| Class | 2,19 |
| Goods | Handicraft |
| Geographical Area | Gujarat |
| Priority Country | India |
| Journal Number | 136 |
| Availability Date | 22/05/2020 |
| Certificate Number | 385 |
| Certificate Date | 14/09/2021 |
| Registration Valid Upto | 22/01/2029 |
Pithora Art is highly enriched folk art and is the culture of tribes. Pithora art is an art form mix of religion and the myths associated with it. Hence, Pithora Art is associated with ancient tradition. Pithora Art is performed for the blessing of a supernatural power, the generous Pithora Dev, who rid the troubled family of their woes and it is believed that these art forms are more of a ritual performed with unshakable sincerity and faith by tribal communities on the walls either to thank god or for a wish or a boon to be granted. Pithora Art is done in the homes on the walls to appease god for peace, prosperity, and the eradication of obstacles from the lives of tribes.
The motifs in the Pithora painting represent the mythology of the community along with exclusive depiction of the most essential aspects of the daily life. The protagonists of the entire painting are horses of the Gods and Goddesses and Ancestors in vibrant colours. The painting is adorned with motifs from nature, daily human activities, animals, farming, trade, important members of the community, along with several new elements which symbolically represent modernity. The chief deities that appear in the Pithora painting are Baba Ganeh, Baba Ind, Baba Pithora, Pithori Rani, Rani Kajal, Baar Matha no Dhani, Raja Bhoj, Abho Kunbi Nakti Bhuten, Lakhari & Jokhari and Purvaj na Panch Ghoda (Five horses of ancestors), motifs of nature, motifs related to animals, and motifs related to human activities.
Having a Pithora Art in the homes is a matter of pride and prestige for the Rathwa Tribes Community. Pithora Art has been a part of the Rathwa Tribal Community for centuries. The unique and beautiful style of Pithora Art originated around approximately 3000 years ago.
It is believed that there came a time when the Earth was suffering from severe drought and living became very difficult for people. During this time a devotee undertook a vow to please Baba Pithora, Chief God of Rathwa Tribe (Lok dev) and win a boon to be rid of trouble soon after it started to rain, and the earth became all green and obstacles were erased. The devotee organized several rituals in order to fulfill his vow, which concluded with Painting Pithora on the walls of his home. From then onwards vows and rituals are undertaken in Rathwa Tribes homes to overcome difficulties. Rathwa Tribes Family treats Pithora as a living entity in their home.
Pithora Art is practiced by Lakhara (i.e. Painter- simply means a creative individual of the community) to paint a traditional Pithora, brushes are made from bamboo- shoots or bawal tree twigs, making cones from dry but tough Khakhra leaves to hold colours that are grind into powder from different dried vegetables and mineral sources. The most frequent colours used in the Pithora are Red, Green, Light Blue, Saffron, Parrot Green, Cobalt Blue, Dark Orange, White, Black, and Silver. The dry colour powder is mixed in cow's or goat's milk and then with distilled strain of mahudo, the local brew made from the fruit of mahudo tree, especially for this Pithora Art. According to the Lakhara, the Liquor acts like a binder and makes certain that colours remain bright new and last for many years. These days the Painter (Lakhara) have taken to mixing commercially available powder colour and silver tinsel in the colours that imparts a sparkle to the Painting. And also lets the painting remain for longer duration. The Traditional size of Pithora Art Painting is 11-9 feet, in total, there are almost 165 types of motif which can appear in a single Pithora Painting.
To read further on 'GI Tags of Gujarat' click here: