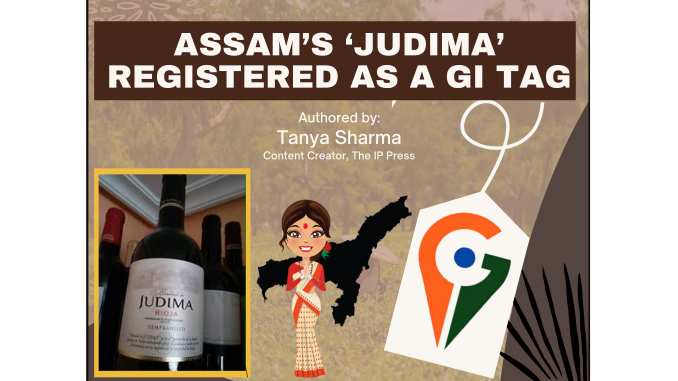 Assam has bagged a total of 10 Geographical Indication (GI) Tags, the latest being 'Judima'. Judima is an agricultural product whose application for a GI tag was filed by Managing Trustee, Youth Association for Development & Empowerment (YADEM) on 16th January 2019 and the product was certified on 14th September 2021 [click here to read all documents]. The Application Details of 'Judima' are mentioned here:
Application Details
| | |
| --- | --- |
| Application Number | 643 |
| Geographical Indications | Judima |
| Status | Registered |
| Applicant Name | Managing Trustee, Youth Association for Development & Empowerment (YADEM) |
| Applicant Address | P.O. Dibarai, Haflong, Dima Hasao – 788 819, Assam, India |
| Date of Filing | 16/01/2019 |
| Class | 33 |
| Goods | Agricultural |
| Geographical Area | Assam |
| Priority Country | India |
| Journal Number | 131 |
| Availability Date | 11/03/2020 |
| Certificate Number | 376 |
| Certificate Date | 14/09/2021 |
| Registration Valid Upto | 15/01/2029 |
Judima is a rice wine brewed by the Dimasa tribe, residing mostly in Dima Hasao and Karbi Anglong districts of Assam, from time immemorial. The name Judima is derived from the Dimasa language Ju and Dima. Ju means alcoholic liquor and Dima is the short form of Dimasa people. The wine is used by the tribe in all religious and social functions. No ceremony is complete without Judima in the Dimasa society. It is a unique drink with a sweet taste like honey and is mellow yellow in colour.
The method of preparation of Judima is also unique. Rice wine is prepared by all the communities in Northeast India. However, the use of the starter cake (humao) with thembra (Acacia pennata) in the fermentation process is a unique feature of Judima. Maintaining hygiene in the surrounding area is of utmost importance in the preparation of this drink. This special drink is exclusively prepared by women folk.
Judima is considered to be the symbol of respect, love and affection and is an integral part of the Dimasa society and culture. It is also considered to be a health drink with medicinal value by the Dimasa people. The unique quality of Judima is considered to be a result of a judicious mix of three varieties of rice grown locally, namely, Maisa, Maiju, and Bairing Maiju with the herbal ingredient thembra (Acacia pennata) and is the traditional knowledge of the Dimasa community. Also, it has a very long shelf-life, i.e., more than seven years. The taste of Judima varies from place to place; however, the best Judima is produced in the districts of Dima Haso and Karbi Anglong of Assam.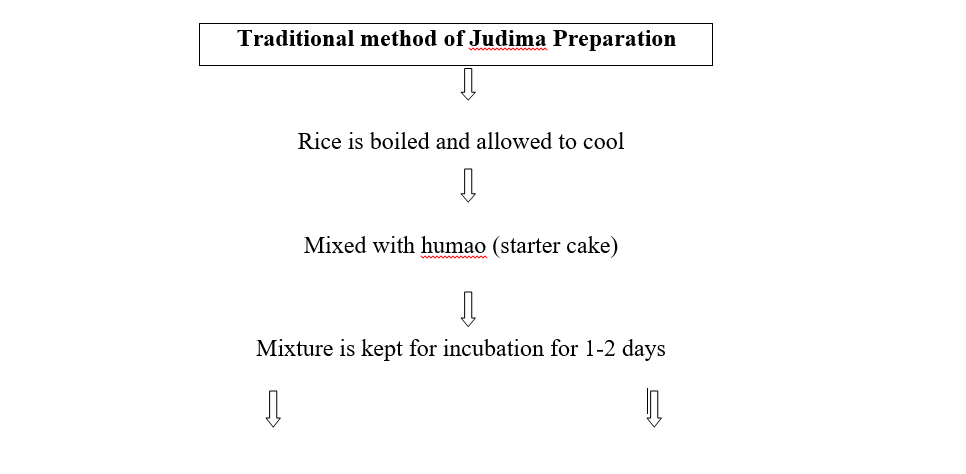 | | |
| --- | --- |
| Mixture is transferred to Ju-Khulu Funnel shaped structure made of bamboo and lined with layers of fresh banana leaves and brew drips out of the ju-khulu through the bamboo funnel to be collected in a dry clean container. | Mixture is transferred to Dihu (earthen pot) and yenthi (bamboo strainer) is placed within which the brew gets collected. |
Click here to read further on 'GI Tags of Assam':